Kombucha – How to Make a Delicious Batch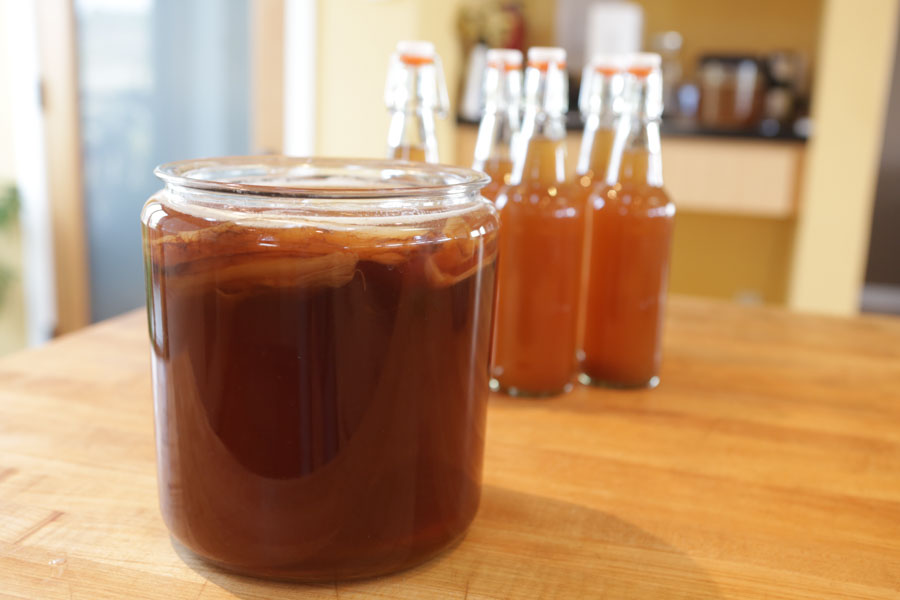 People often ask me how to make kombucha. This kombucha recipe is one of the easiest fermentations you can make. The ingredients cost very little (tea, sugar and water) and the preparation is remarkably simple. The only minor complicating factor is getting your hands on a starting culture. The culture is often called a "mother" or a "mushroom" but don't be fooled, it is not an actual mushroom, but simply a colony of bacteria and yeast. It is often referred to by the acronym SCOBY which stands for Symbiotic Culture of Bacteria and Yeast.
The SCOBY floats on the surface of the Kombucha and every time you make a new batch of Kombucha, the SCOBY continues to grow and thus creates layer upon layer which can then be shared with someone else. If you don't have access to a SCOBY from a friend, you can find one here.  I can also show you how to make your own kombucha SCOBY.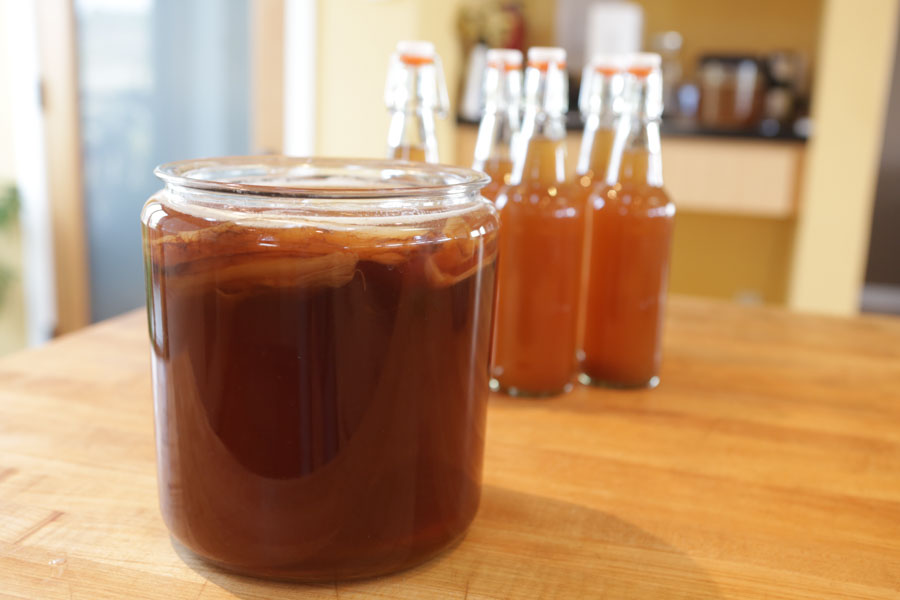 Ingredients
1 gallon non-chlorinated water
1 cup sugar
1/2 cup kombucha from a previous batch
6 black tea bags or 3T loose black tea
Instructions
Make the tea

- Take half of the water, heat it to a simmer and add tea bags. Allow simmer for a few minutes and allow to cool some.

Strain out the tea leaves (or remove the tea bags)

Place tea in the container

you will use for the fermentation. Pour into fermentation vessel (I generally use a 1 gallon Anchor Hocking Jar). Add the remaining water. Heating only half of the water simply allows for faster cooling by adding cooler water to the recently simmered tea. For larger batches, you can use a 2 gallon Anchor Hocking Jar, but use whatever you like.

Add the sugar

- Add in 1 cup of sugar per gallon of tea. Mix well a couple of times over a few minutes until well dissolved.

Make sure water is cool or at least not hot to the touch.

Wait as long as necessary.

Add Kombucha from a previous batch

- take 1/2 cup of kombucha from a previous batch and pour it in with the 1 gallon of tea
*Add the SCOBY. Will normally float on the surface, but should be fine if it sinks. It will likely float back to the surface over time. As the SCOBY becomes thicker with succeeding batches, I like to peel off and discard the lower layer(s) and use just the top layer or two. Seems to help with maintaining a better yeast balance and therefore a more carbonated end product.

Cover with a cloth

to allow it to breathe some while keeping contaminants out.

Let it sit for 10 days to 2 weeks

- The longer it sits, the more tart the taste will become. Your taste is the best judge as to when it is ready. I've sometimes left mine for up to three weeks. What you are looking for is something just slightly sweet and a little tart. Warmer temps speed up the fermentation process.

Bottle it

- I like to adding flavorings such as juices and berries. My staple is adding some sliced ginger and 1/4 teaspoon of ground turmeric. These flip top bottles are great and attractive.

Leave on the counter for a few days

and then refrigerate* - This is a secondary fermentation period which helps to trap carbonation in the bottle and generate more carbonation. If you really want to make your kombucha fizzy, read this post. It's pretty amazing how much carbonation you can get our of your kombucha.
https://www.fermentationrecipes.com/kombucha/78
Copyright 2017 - FermentationRecipes.com ©
Getting it to be nice and fizzy is something that can be inconsistent. A carbonated kombucha drink is mostly a product of a healthy happy SCOBY with a stronger yeast component.  If you want a fairly foolproof method for making your kombucha fizzy, check out Making Your Kombucha Fizzy with Ginger. Have some patience and trust during the fermentation and after a week, dip in a spoon in and give it a taste.  Leave it longer if it's not quite right. If for some reason you let your kombucha go too long and it gets too tart, there is no need to toss it.  It is simply turning to vinegar. Split your SCOBY in half and leave one SCOBY with the old batch. After another month or so, you'll have a nice vinegar with which you can make a health promoting Kombucha Vinegar Flu Tonic! Use the other SCOBY and start a new batch and simply be careful not to let it go so long next time!
pH Corner
I target a pH range of about 2.9 to 3.15 for kombucha.  You can measure with this pH Tester|http://amzn.to/2m6WsLL] which I use or get these [disposable pH Test Strips|http://amzn.to/2s2ga1I]. If you'd like to learn more about pH and Kombucha, refer to my more in depth article: pH level for Kombucha – What is the correct level?
Thanks and good luck!