Why Everyone Should Ferment with an Airlock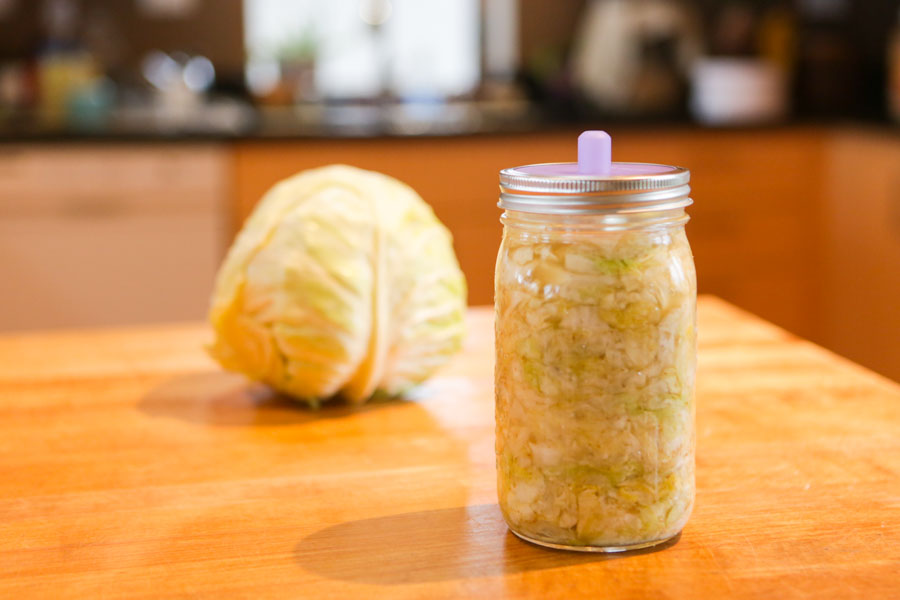 There are many techniques for fermenting, but none are as effective as when you ferment with an airlock.  Whether you are a beginner wondering "how do I ferment?" or someone who takes their fermenting very seriously, utilizing an airlock is not something that should be overlooked.
Why should I use an airlock when fermenting?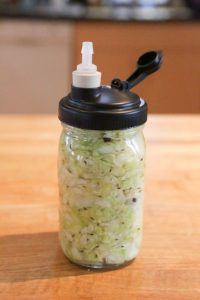 There are a few main reasons as to why you should use an airlock when fermenting. The primary reason is that airlocks help to prevent most common problems that occur with fermentation.  Since beginning using different airlocks several years ago, I have yet to have something go bad during the fermentation process.
Airlocks create a true anaerobic environment which is required for healthy ferments. As gasses are generated from the fermentation when using an airlock, oxygen flushes from the container so that eventually the container simply contains the gasses produced by the fermentation, commonly hydrogen, methane and carbon dioxide. Thus oxidation is prevented, and mold which generally required oxygen to flourish is starved of one of its necessary fuels.
Lastly, airlocks are easy to use and allow you to make smaller batches when desired.
What is an airlock?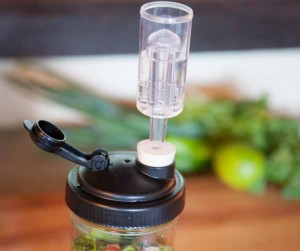 An airlock is a device which allows air or gasses to move out of a ferment but do not let any back in. By not allowing any air back in, the contamination of your fermentation project by molds and other microorganisms is prevented. You end up with a virtually fool-proof fermentation. Examples of airlocks used in fermentation can include fermentation crocks with a water moat around the lip and any number of airlocks which attach to mason jars.
How do I use an airlock?
Using an airlock is really quite simple, but varies from model to model based on design. When fermenting with an airlock attached to a mason jar, it's best as always to keep the ingredients submerged. That is where glass weights such as these can come in handy. Some airlocks like the one pictured immediately above this require you to add some water into the airlock.  Others such as the Pickle Pipes and ReCap Airlocks do not need any water as they are effectively unidirectional valves.  I find that with an airlock, since the oxygen gets flushed out fairly quickly during the fermentation, that complete submersion isn't always necessary. As such, airlocks are particularly helpful when making salsas and other condiments where submersion is not really possible.
Can I use less salt in my fermentations when I use an airlock?
One of my greatest discoveries in undertaking so many fermentation projects has been that I can safely use less salt when I ferment when i use an airlock.  Salt serves two primary functions in fermentation
salt breaks down the cell walls thus allowing liquid to be released. This liquid can then naturally cover the ingredients
salt makes the fermentation environment less hospitable to unwelcome microorganisms while still allowing the microorganisms conducive to fermentation to flourish.
Given that the airlock helps to prevent other microorganisms from entering the ferment, I've begun reducing the usage of salt. I had been using 1 Tablespoon of salt per 1.5 pounds of vegetables. I now use 1 tablespoon of salt for every 2 pounds of vegetables. Since making that change about a year ago, I haven't had any difficulties with my ferments.  I have a longer post about Measuring and Using Salt in Fermenting if you are curious.
Which airlocks do I recommend?
I've used several airlocks and all of them seem to work very well.  Here are a few that I really enjoy using. The MasonTops option below is a wonderfully put together kit comes with glass weights ("Pickle Pebbles") as well as the colored silicone airlocks  ("Pickle Pipes") and a "pickle packer." You can buy components separately if you prefer. The fermentation crock has a water moat and works quite well. The ReCap airlocks are super easy to use as well, but be sure to buy the lids that go with them (which do come in handy once your ferment is complete.
The more i use an airlock, the more sold I become on the concept.  They simply help to prevent many of the problems that can occur during the fermentation process.  If you don't have one, don't panic and stop fermenting, but I would definitely recommend getting some to make your fermenting even more simple and dependable.  Happy fermenting!
(this post was updated July 2017)