Making Your Kombucha Fizzy – With Ginger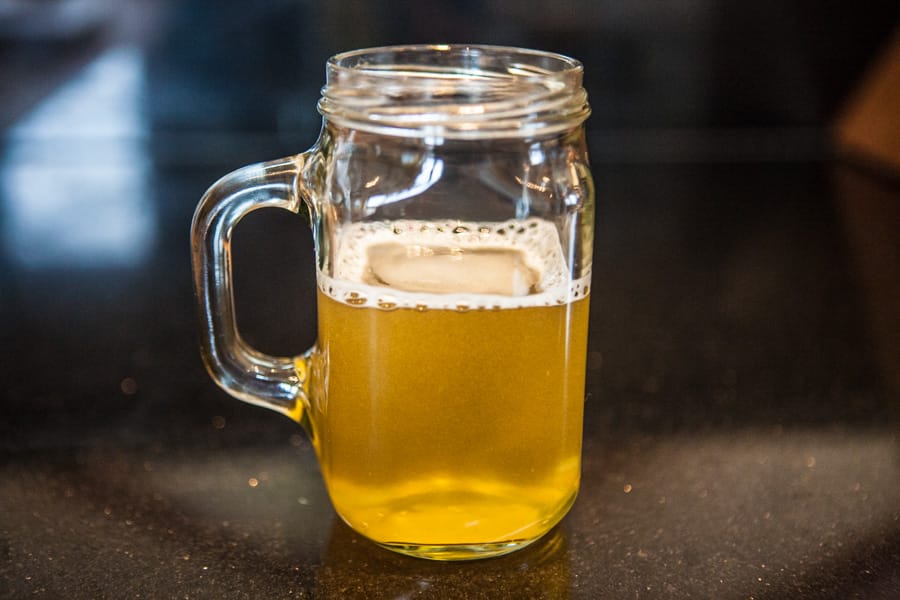 People often write to me asking me a common question, "How can I make my kombucha more fizzy?"If you are anything like me, you much prefer it when your kombucha has some carbonation to it and at times, kombucha can come up a bit too flat.  I used to struggle with that but now, after well over 100 gallons of kombucha making under my belt, including various relatively scientific experiments, I've figured out a simple and dependable way to make a nice fizzy kombucha.
Firstly, make kombucha which I'll describe below, but secondly bottle it with some added fresh ginger and let it sit in a secondary fermentation.  The result will be a carbonated kombucha treat.  Lactobacillis bacteria and wild yeasts live naturally on ginger.  These feed off the sugars in the bottled kombucha and adds carbonation as a by-product.  As we want a healthy culture, it is important to use organic ginger so that is hasn't been treated with pesticides or irradiated.
Of course, the ginger can add a nice flavor as well.
Making Your Kombucha Fizzy – With Ginger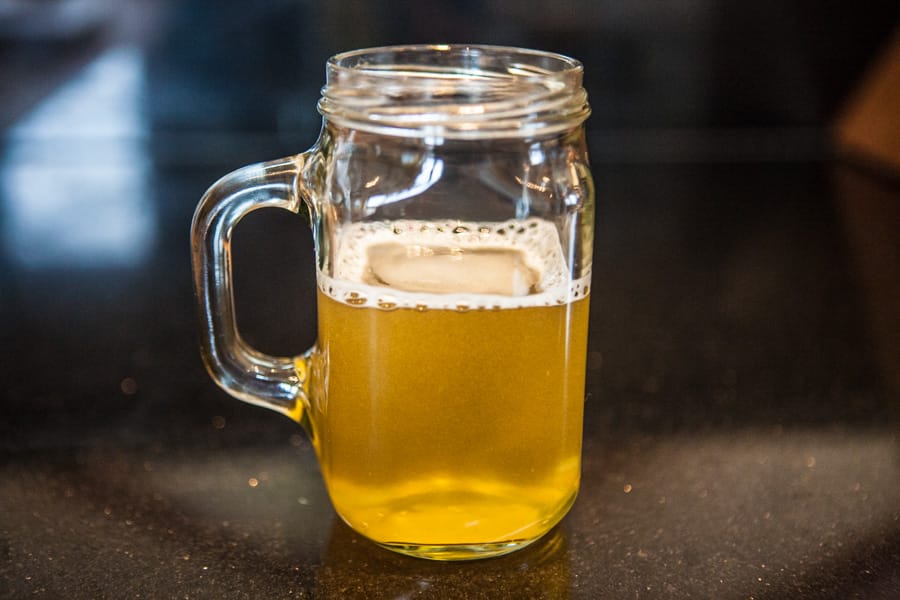 Ingredients
1 gallon water
1/8 cup black tea leaves (or 4 tea bags)
1 cup sugar
1/2 cup mature kombucha from previous batch
Fresh organic ginger cut into matchsticks, not peeled (approx 1 teaspoon per 16oz bottle) - Best to use organic as it is the natural yeast on the ginger which creates the additional carbonation
Turmeric powder (1/4tsp per bottle) – optional
Instructions
First Stage

Make tea

- bring water to a simmer and add tea bags. Simmer for a few minutes. If your water is chlorinated, simmer it for about 15 minutes to offgas the chlorine.

Pour into vessel

- pour the tea into the vessel you will be using to make the kombucha - You can use a 1 gallon jar or for bigger batches, a 2 gallon jar. These kombucha drink crock are great as they are of a nice quality and have a solid built-in spigot

Add sugar

and stir to dissolve

Wait for tea to cool to room temperature

Add the kombucha from previous batch

*Add the Kombucha SCOBY (Symbiotic Colony of Bacteria and Yeast). If you add the SCOBY while the water is hot, you'll risk killing it. The SCOBY should float, but if for some reason it doesn't, don't sweat it. It will often times rise to the surface over time, or perhaps a new SCOBY will form on the surface.

Cover with clean cloth

and cling it to the vessel with a rubberband if possible.

Leave at room temperature

Taste it after a week

- it should taste just barely sweet and a touch tart. If it is too sweet, let it go longer. Mine is usually ready after about 10 days, but sometimes as long as three weeks. Note that the warmer the environment, the faster the ferment. If your space is cooler, your fermentation will take longer.
Second Stage - the fizzy part

Pour kombucha into bottles

- I like to fill a spouted Pyrex measuring cup and from there, pour into the bottles. You can use a funnel too if the bottle openings are small. I love using flip top bottles.

Add ginger to the bottles

- Add approximately 1 teaspoon of fresh ginger per 16 ounces of kombucha. I prefer cutting the ginger into longer matchsticks as that shape goes into and out of the bottle easily, yet isn't as bothersome when drinking from the bottle.
Add an optional 1/4 teaspoon turmeric to each bottle

Close bottles tightly

Leave at room temperature

for a few days as a secondary fermentation. The longer you let it sit, the more carbonation will build up.

Refrigerate

and open cautiously as carbonation can at times be strong.
https://www.fermentationrecipes.com/making-your-kombucha-fizzy-with-ginger/1116
Copyright 2017 - FermentationRecipes.com ©
pH Corner
The target pH for Kombucha is in the area of 3.0. I personally use this pH Tester, but you can also use these disposable test strips.  If you are curious enough to read a little more in depth on this topic, check out my article : pH level for Kombucha – What is the correct level?
If you haven't figured out by now, I'm a big fan of turmeric.  I enjoy the flavor that it adds, but it's effect as a potent anti-inflammatory is something can be very valuable in fighting and preventing various diseases.  Adding it to your kombucha is a great way to add it to your regular diet.  Below is a link to a video which explains a study on the effect of various dietary spices on inflammation.  Which Spices Fight Inflammation?
If you don't have access to a SCOBY, you can buy a SCOBY here or here's how you can grow your own SCOBY.
Enjoy in good health….. and fizz!
Pin It!