pH level for Kombucha – What is the correct level?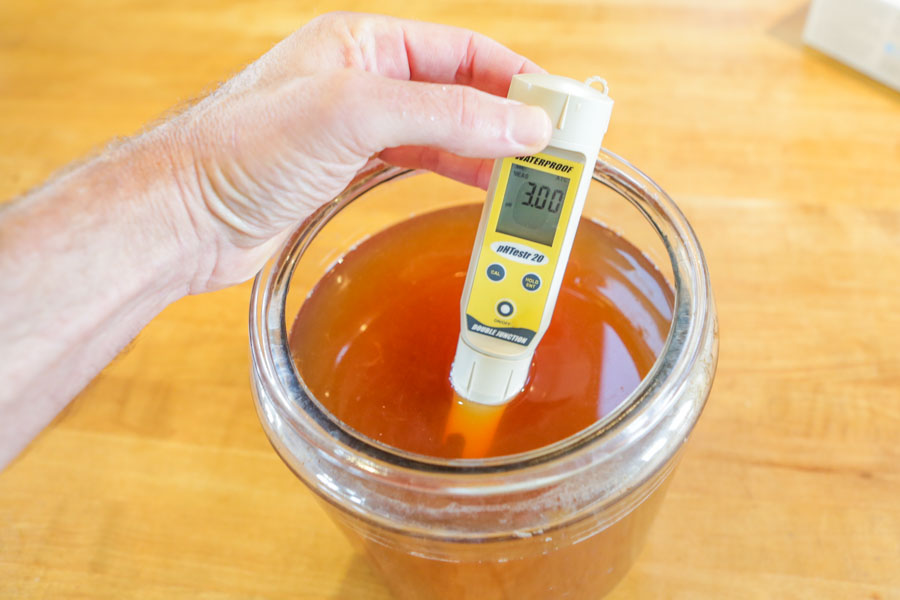 As we seek to make a delicious kombucha, it's helpful to understand pH and its role in creating a tasty, nutritious and safe and refreshing drink.  While kombucha is fermenting, the pH continues to lower. That lower pH level is reflecting a more acidic environment and that deliciously tart taste that kombucha is known for. The lower pH level acts like a protective shield, creating an environment within which the colony can thrive while other potentially harmful invaders can be kept at bay.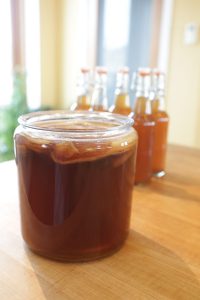 When I make kombucha, I tend to allow it to ferment for from 10-17 days, partly depending on temperature (the warmer the temperature, the shorter the ferment time), but to be honest, it mostly depends on my own schedule and when I get around to bottling it up. Some folks go for up to 4 weeks, although in my personal experience, kombucha can start to get too vinegary when left that long.
For awhile now, I've been measuring the pH of my kombucha throughout it's "brewing" lifecycle and in the process I have learned enough to feel ready to share it with you now. I've been using a dependable and very easy to use pH tester, the Oakton Waterproof pH Testr 30. It's one of my favorite kitchen gadgets now and everyone who is serious about fermenting should probably have one. No disposable trst strips are required so it's a one time purchase. If you prefer a smaller investment, these disposable pH test strips can be used for ferments including kombucha because their pH measurement range is in a sweet spot (0-6) for fermentation projects.
How do I make Kombucha?
The basic process for making kombucha is to make a sweetened tea, add a little kombucha from a previous batch and place the SCOBY (Symbiotic Colony of Bacteria and Yeast) in. Cover and wait 1-3 weeks. I have a few related posts which you may find helpful:
How to Make Your Own Kombucha Culture – SCOBY
Making Your Kombucha Fizzy – with Ginger
What is pH?
pH is a measure of the acidity/alkaline level of a solution expressed on a numeric scale. A pH reading of 7.0 is considered neutral.  Numbers lower than 7 indicate a solution which is increasingly more acidic. Numbers greater than 7 are increasingly more alkaline.
"pH" stands for "potential of hydrogen" and is techincally a measure of hydrogen ion concentration. The lower the pH, the higher the concentration of hydrogen ions. In fact the increase in hydrogen ions measured by pH is exponential in that each decrease of 1 on the pH scale represents a 10 fold increase in the number of ions.
Acidified foods (foods with a pH of 4.6 and below), according to US FDA guidelines do not need additional preservatives in order to be sold.  This is because the bacteria which causes botulism can not grow in an environment where the pH is at or below 4.6.
Should I Measure the pH of my Kombucha?
If you are bottling kombucha commercially, you'll need to measure pH for the health department, but you'll also definitely want to be measuring the pH of your kombucha as the consistency of your product will increase. If you prefer to not measure the pH of your kombucha, you can simply taste it and bottle it up when it tastes just about right to you. It should be just marginally sweet and a bit tart. The longer it ferments the less sweet and more tart it will become.
What is the correct pH level for kombucha?
The target pH of kombucha is right around 3.0. My kombucha generally ranges from 2.95 to 3.15. Since it will continue to ferment and thus get more tart in the bottle, the pH when you ultimately drink it will be lower than when you first bottle it.
Although these should not be considered as exact targets, here are some approximate readings for kombucha at various points in time during the fermentation process:

Is it necessary to add kombucha from a previous batch to my new batch of kombucha?
The short answer is "yes," you should always add some kombucha from a previous batch when making a new batch. As you can see in the table above, the pH of the new batch is lowered considerably upon adding some already mature kombucha. The lower pH in the now more acidic environment helps to prevent mold and other microrganisms from taking hold. Without the additional kombucha, the pH level at the beginning stages of a new batch would be too high and thus not offer the early protection that a more acidic environment provides.
The pH of kombucha will continue to lower over time as it gradually turns to kombucha vinegar. If you should happen to leave it to ferment for too long, you can always take that extra tart kombucha and use it as kombucha vinegar.  It's great to use for salad dressings, in a kombucha vinegar flu tonic, or just as a daily sip to help with weight loss.