What Equipment and Supplies Do I Need for Fermenting?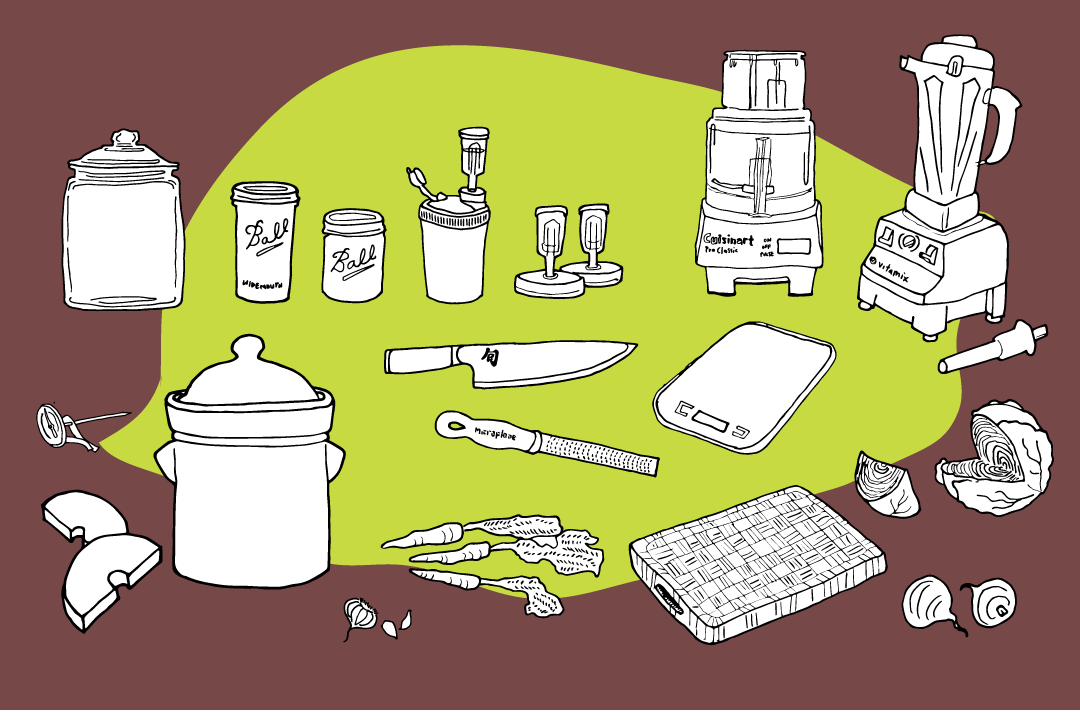 Fermentation needn't be an equipment intensive undertaking, unless of course you are producing at a commercial scale.  All you generally need is a fermentation vessel and some salt and some sort of weight to help keep the contents of your fermentation submerged. That said, I am also a huge fan of having the right tools and equipment in the kitchen when working on ferments and making meals.
Here is a list of all the items you can find in my kitchen which I find helpful in the preparation and storage of fermented foods.
Items Used for Fermenting
Fermentation Crock – This is the one I use on a regular basis in my kitchen.  Works very well.  Food safe glaze, water lip around the top to create a seal which prevents molds and other microbes from entering, a split set of weights.The 5 liter size is great for making decent-sized batches of tastyness that you can share while not dominating your counter space. Having a good crock can help to minimize the occasional contamination problems that can pester fermenters. I also was recently gifted a fermenting crock handmade by a local ceramicist. If you have the chance near you, support your local artisan and buy a one-of-a-kind fermenting crock.
Anchor Glass Jar – I used these for years for my fermentation projects and still do occasionally. They work fine.  You'll need to improvise weights (plastic bag with water, large bottle of water, marbles, etc.) to keep your fermentations submerged but that's not difficult. I use the 2 gallon version for my kombucha.
Air Locks – these Kraut Kaps work well.  They attach to mason jars to create a fermentation environment free of harmful microbes.  See How Do I Ferment with an Airlock?
Glass Weights – I prefer glass for my followers (another term for a weight used to keep your ferment submerged), as they clean very easily and remain free of contaminant growth between uses.
Ultimate Pickle Jar kit – This kit makes it easy for fermenting small batches in mason jars. Once on their site, look for either the SIngle Pickle*Pushing No-Float Jar*Packer Fermentation Kit or the set of 3.
Items used for Preparation of Fermented Foods
Items Used to Store Fermented Foods
Ball Jars – These are the workhorses of fermentation storage in my kitchen.  I generally use two sizes, 1 pint and 1.5 pint and like the ones where the mouth of the jar is as wide as the jar itself.  You can get these at your local hardware store too.
Mini-Fridge – Once your fridge fills up with all of your ferments, you may need a little extra storage space. I can recommend this model.  I've had mine for about 4 years now and it hasn't missed a beat.
Helpful Books
Foods, Ingredients and Starters
Just a note that I do receive affiliate payments for some of these links. My income from such is low, but it does help in supporting the costs of developing and hosting this website. As such, I appreciate when you click on a link here before purchasing something.  Please know that you will not pay any more for that item and that I will not provide any product links for products which I am not personally pleased to own and use in my own kitchen. Here is my Affiliate Disclosure if you'd like to read it.