Brussel Sprout Radish Fermentation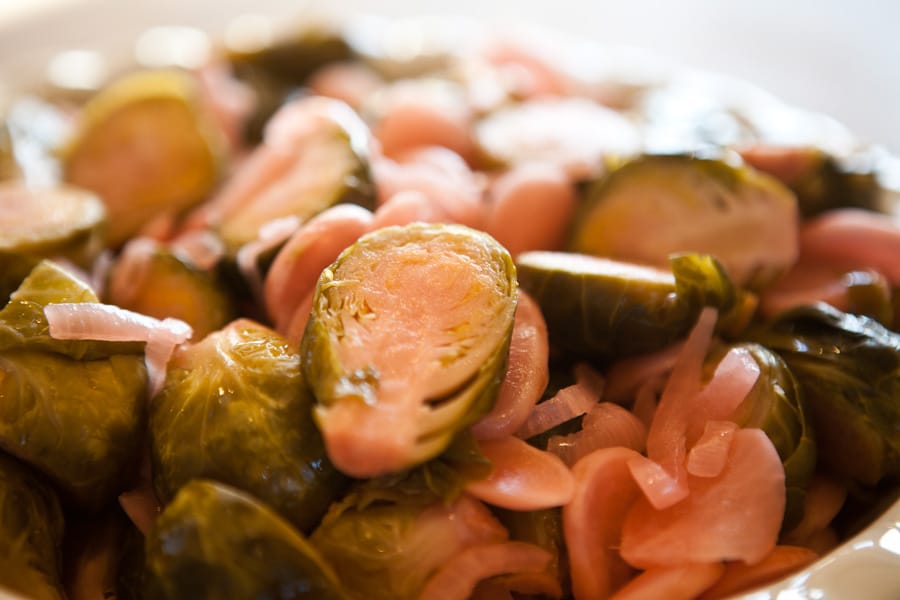 I just finished an experiment in fermenting brussel sprouts.  I am one of those people who sometimes loves and sometimes is not quite so fond of brussel sprouts.  Sometimes they can just be a little tough.  So it occurred to me that since cabbage ferments so well and since brussel sprouts are in the cabbage family, that perhaps they would just as easily and deliciously ferment.
I did a pretty clean ferment with them here, not adding much in terms of spices/flavoring, just so I could see how it went.  I'm quite pleased to say it went very well.
Since it was December, I thought I'd do brussel sprouts with red radishes so that the result would be a holiday red and green in color.  In the process, the radishes gave away their redness to the greater good, so the result has a green and more pinkish tint.
Preparation Time: 1 hour
Fermentation time: 7-10 days
Yield: 6 cups
Ingredients:
3 dozen brussel sprouts
3 dozen red radishes
1 medium onion ( I prefer red)
Brine of 3T salt dissolved in 4 cups water (non-chlorinated)
Directions:
Cut the brussel sprouts in half lengthwise so the halves don't fall apart.
Slice the radishes into 1/4″ thick rings.
Slice the onion in half from top to bottom and then slice each half into 1/8″ thin slices so you end up with a bunch of lovely thin cut semi-circles.
Place all the above into a fermentaiton crock or glass jar.
Dissolve the salt into the water and pour over the vegetables.  It will likely not cover the vegetables entirely, so you need to put some pressure into compacting the vegetables.  If you can't get the liquid level to rise above the vegetables, let it sit another few hours during which the salt in the brine will draw more moisture out of the vegetables.  Try putting some more pressure on them.  If you still can't get the brine to cover the vegetables, then add a little more brine as necessary.
Place a weight (I like to use a full glass jar) on the vegetables to continue the pressure on them, and let them sit for 4-12 hours.
Pour off the brine into a container and save.  Now pour back in about a cup of the brine.  Again put lots of pressure on the vegetables until the liquid covers the vegetables.  If you can't get the liquid level up high enough after giving it a good try, then add water until they are nearly covered.  Place a weight on the veggies until the liquid fully covers them.  At this point, I like to use a weight that can fit inside the fermenting container so that i can place a loose fitting lid on it.  This allows gasses to escape as necesssary but also helps to keep the smell from taking over your kitchen.
Stir it up and taste it everyday to get a feel for how it evolves over time as the fermentation sets in.  There is natural lactobacillus on the vegetables which will begin to multiply and after a couple of days, the fermentation process picks up in earnest.
Keep tasting regularly until you like the flavor and tenderness.  Mine took about 7 days at a steady 67 degrees until I felt it was ready to serve to others as a meal accompaniment.   A warmer environment would move the fermentation along more quickly.  I'll let it keep developing probably for another 4-5 days as it takes some time for the fermentation activity to reach the innermost region of the sprouts.
Jar it up when you're satisfied with the taste and place in the refrigerator.
Pin It!