CauliKraut – Fermented Cauliflower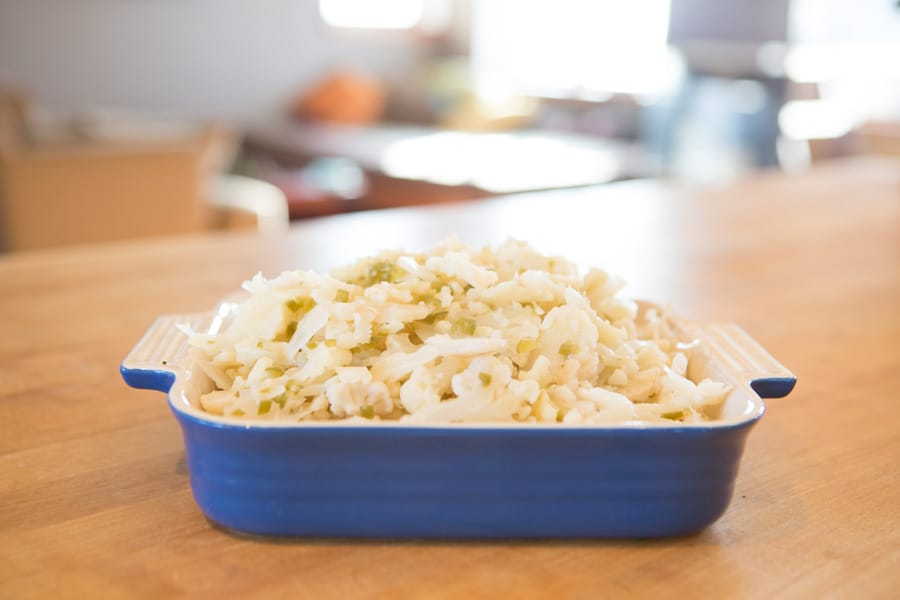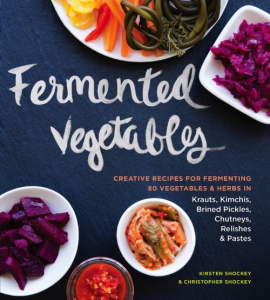 Lately I've been enjoying an excellent book on fermentation called "Fermented Vegetables" by Kristin and Christopher Shockey. Aside from providing helpful information on the fundamentals of fermentation, I love how the book is laid out alphabetically from A-Z, Arugula to Zucchini, with about 50 vegetable stops in between. I recently tried out a couple of recipes and am sharing one of them here.  They have a website at The Fermentista's Kitchen if you'd like to visit.
This recipe is fairly straightforward and includes only Cauliflower and Jalapeños, and of course some salt. While the recipe uses jalapeños, it's not really that spicy of a dish. Below is the recipe as I made it, which has slightly different ingredient quantities. You could slice the cauliflower very thin using a mandoline but I just used my super sharp (and altogether amazing) Shun knives.  Those knives were a bit of a splurge for me a couple of years ago, but when you buy things to last a lifetime, and especially something you use everyday in support of something you love, they're worth it!
Preparation Time: 20 minutes
Fermentation time: 1-3 weeks
Yield: 3 pints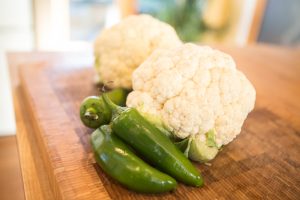 Ingredients:
3 lbs cauliflower (2 heads)
4 large or 6 medium japapenos, seeded and minced
2 1/2 teaspoons salt
Directions:
Prepare the cauliflower


Wash the cauliflower heads, remove the leaves at the base, and break/cut off the individual florets. With a sharp knife or a

 

mandolin, slice the florets as thinly as reasonably possible.  Mine were about 1/8″ thick.  You'll likley end up with a bunch of cauliflower crumbs in this process.  Use those too.

Prepare the JalapeñosLightly wash the jalapeños, slice them lengthwise in half, remove and discard the seeds, and then dice. As with all hot peppers, be careful not to touch your eyes.
Toss with salt
Place the sliced cauliflower and jalapeños in a bowl and toss with the salt
Place everything in fermenting vessel
Take all ingredients from the bowl including the liquid which may be pooling at the bottom and place in your fermentation vessel.  For this recipe, I simply used a 1 gallon Anchor Hocking cookie jar.
Compress
Compress the ingredients in the vessel by pressing down gently with your fist. Your goal is to compact the ingredients and have the liquid rise to cover the ingredients. Place a weight on top of the ingredients.  If you use a fermentation crock, then it should come with it's own weights. If you use the glass jar approach, I'd suggest filling a plastic
bag about 2/3rd fullwith water (be sure it doesn't leak first) and placing that on top of the veggies. Best to remove the air from the bag when sealing it so that the shape of the bag can conform easily to the sides of the jar to form a good seal.
Be sure liquid covers the ingredients
If the liquid doesn't yet rise up sufficiently to cover the vegetables, don't fret. Just give it some extra time, perhaps up to 4 hours. Compress again. If the liquid still doesn't cover it, mix a little water and salt together (I added 1/2 cup of water with 1/2 teaspoon salt dissolved and simply poured it over the top. The more fresh your ingredients are, the more liquid will nautirally leach from the veggies.
Cover
The point of covering it is to keep germs and molds from entering your ferment, while still allowing the ferment to breathe. The plastic bag forms a good seal in this case, but cover with a cloth as well. You can use an airlock for this or of course a fermentation crock like this one which i often use.
Wait impatiently
You can start tasting this one after 4-5 days, I agree with the Fermented Vegetables book which says, "You'll know it's ready when it's pleasingly sour and pickle-y tasting, with the strong acidity of vinegar; and the flavors have mingled." Personally I left mine for 3 weeks, but I tend to prefer things a little more sour.  I'm not quite like my former roommate Julie who drinks pickle juice, but I do enjoy a swig of kombucha vinegar now and again!
Jar it up
Refrigerate
This helps to significantly slow the continuing fermentation.
Serving Suggestions
This ferment ends up tasting a bit like an italian giardiniera.  The cauliflower slices can be placed perhaps on a tuna or other sandwich instead of pickle slices.  Also nice simply as a small side on a lunch plate.
Pin It!