Farm to Fermentation Festival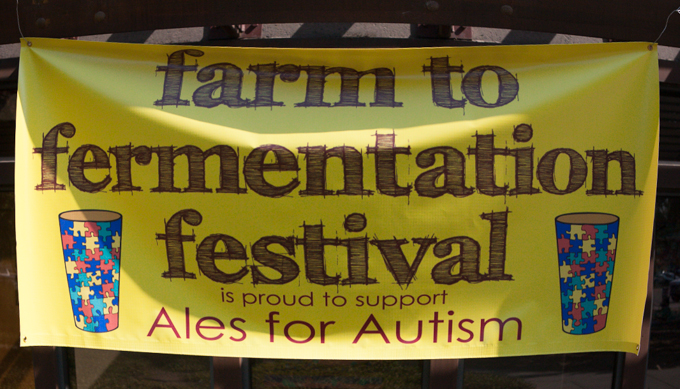 For the first time in my fermenting life, I stepped outside of my own bubbling kitchen laboratory and into a wider community of fermenters as I attended the Farm to Fermentation festival in Santa Rosa, CA this past weekend. I loved it and learned lots of new things, through attending workshops and also justin talking with vendors and attendees, many of which I'll be sharing in upcoming posts. I'll admit I got a little personally overpickled in sampling so many different fermented delectables, but it was definitely fun.
One of the noticeable differences between the krauts on offer was the texture. While flavor of course is very important, to me a kraut that retains some tooth is worth it's salt so to speak.  Some of the artisans there really had the color/texture thing down, most notably David Ehreth, owner and founder of the Sonoma Brinery. He has a large operation and with products sold in 9 different states (always helpful to land Whole Foods as an outlet), but he is successful for a reason, he makes a great product. He knows the science well too and taught me a few things around ph levels that I'd like the start playing with in my own process. His smokey chipotle kraut was fabulous – crisp, beautiful color, and perfectly flavorful. Farmhouse Culture, a sustainable and locally sourced purveyor out of Santa Cruz also served up a couple of faves, including a similar Smoked Jalapeno (did you know that Chipotle is simply Jalapeno which has been smoked?) and a Horseradish Leek sauerkraut, both of which made me do the "Happy Kraut Dance," that autonomic wiggle jiggle that happens when you taste a really good ferment. I bought the Umami kraut from Wild West Ferments out of west Marin to share with some friends, as I really enjoyed the complexity of its flavor which includes toasted sesame seeds. Wild West lets all their krauts ferment for a generous 6 weeks. I've never tried stewing a kraut that long, so I think I'll give that a shot too to get a better sense of what happens over that lengthy a time.
Another pleasant taste was from tempeh craftsman Stem Kent of Alive and Healing who was serving by far the most delicious and gently textured tempeh I've ever tasted. I've often said "blech!" when it comes to tempeh, but this one definitely rewired some old synapses.  When someone puts their heart into their vision, the result, as in this case, can be a truly wonderful product.
My favorite drink from the show was from Kelly Dearie, of Creative Cultures who served up a delicious tonic called "Pollen Up." I hope this product makes it to the shelves of my local shopping stops as I often find myself struggling to buy a drink worth buying, even when I'm thirsty. I'd certainly get this one. She also has a great drink called "Green Dream" which includes chlorophyll and was a very close runner-up. Kelly also sells a lower salt content beet kvass, the recipe of which she was kind enough to share. I'll give that a try too and share that at some point here.
Oh, and last but not least, I really enjoyed a "Smoked Cider" from Tilted Shed Ciderworks from Sonoma County. Co-owner Ellen Cavalli was kind enough to share with me some knowledge about yeast for making hard cider and recommended a couple of books.
Among the demonstrations I attended, I especially enjoyed the preparation of cucumber kimchi from the fabulous chef Hyunjoo Albrecht owner of Sinto Gourmet. Very crisp, light and delicious. She made it without hot peppers and said that in parts of Korea they make "white kimchi" like this without the hot red peppers. I'll definitely try something like this on my own shortly.
Lots of goodies were available for sale including books,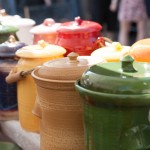 fermenting crocks, and other fermenting equipment and supplies. I picked up a fruit wine making kit to ease my transition into that segment of the fermenting universe. Hopefully, I can still get enough plums off the trees here to make a good batch of plum wine.
It felt good to be in the midst of a couple of hundred other fermenting enthusiasts and have a chance to learn more and share some of what I've come to understand. As with any avocation, there is always so much more to learn and this was a great place to meet folks, sample many fermented goods and get further inspired to get a new generation of edibles bubbling in my kitchen.