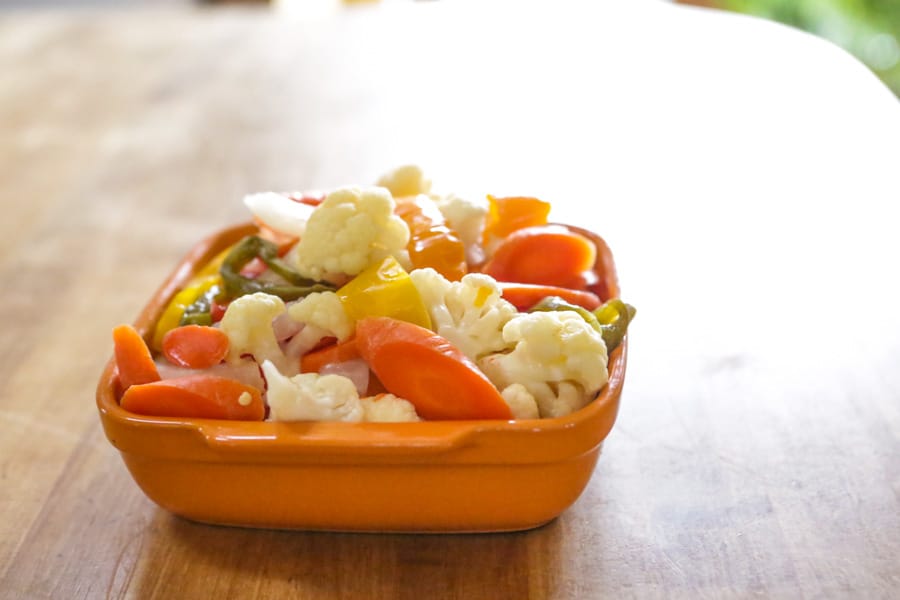 Although commonly made with vinegar, this fermented giardiniera recipe is even more delicious and healthy since it is made using simple fermentation techniques. I had been waiting for a few weeks for this giardiniera to ferment fully and when I tasted my first bite, I exclaimed aloud, "oh my God, that's good!" Whenever I catch myself exclaiming out loud after tasting something new, I know I'm on to something! This Italian giardiniera (or giardiniere as the French call it) carries a tart flavor with a nuance of heat, and a perfect texture nestled nicely in the sweet spot between crisp and tender.
Most giardiniera recipes (some folks mistakenly call it gardinera without the extra "i") rely on vinegar for flavor and preservation. Fermenting giardiniera in this old-world way is very easy and you'll find it quite satisfying to make. Compared to other fermented giardinera recipes, this recipe calls for significantly less salt. I have found that when using an airlock such as this, there is much less opportunity for contamination and thus we can do with less salt. You are welcome of course to use up to 3x the salt as some recipes call for but I think you'll find that this reduced salt is more than sufficient when using an airlock.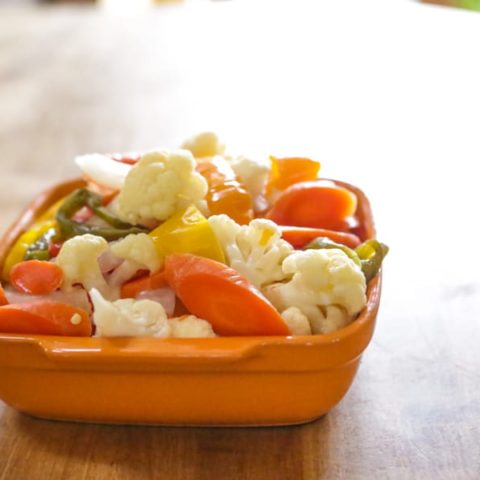 Giardiniera
Easy recipe for naturally fermented giardiniera. Delicious.
Ingredients
1/2 head Cauliflower cut/broken into smaller florets
2 medium Carrots
1/2 white Onion or 20 small pearled onions
1/2 Jalapeño
2 Bell Peppers, colors of your choosing
20 whole peppercorns
8 cloves garlic
1 Tablespoon sea salt
1 quart water
Instructions
Prepare the vegetables - Cut or break off cauliflower pieces into smaller florets. Slice the carrots on an angle into 1/4" thick slices. Cut the half onion into 1/2" wide slices. Remove the seeds from the jalapeño and cut it into ringlets. Cut the bell peppers into long flat slices approximately 1/2" wide. Peel the garlic and slice each clove in half. I'm such a fan of these Shun knives. Pricey but beautiful and so worth it. Their nicest most beautiful knife is this one.
Dissolve the salt in the water - be certain to use non-chlorinated water.
Layer the vegetables - place the prepared vegetables, including the garlic and peppercorns, into the fermentation vessel(s). It's nice to use glass for this since it's truly beautiful to view through the glass. This is your chance to get artistic with the layering of the ingredients if you like. For this recipe, I used a 1/2 gallon Mason Jar. If you want to double the recipe, use two jars or combine into a fermentation crock. Although I often use a 1 gallon jar for many of my ferments, this giardiniera puts off a little more scent during the fermentation process so best to use a fermentation vessel that has some sort of airlock to keep the scent at bay.
Add salt water - Pour enough water in to reach to the top of the veggies. No need to fully submerge as the vegetables will begin to release some of their own liquid during the fermentation process and the water will eventually more than amply cover the veggies.
Place airlock on - I made two separate batches in experimenting with this recipe and used two different airlocks. There are many fine airlocks available. I've been enjoying this airlock lately.
Wait impatiently! for a few weeks while the fermentation takes place and enjoy.
Nutrition Information:
Serving Size:

1/4 cup
Amount Per Serving:
Calories:

54.23
Total Fat:

0.4g
Saturated Fat:

0.12g
Sodium:

900.97mg
Carbohydrates:

11.61g
Fiber:

3.26g
Sugar:

4.77g
Protein:

2.44g
Nutrition information relies on third party software and isn't guaranteed to be perfectly accurate
Other Articles of Interest
Why Everyone Should Ferment with an Airlock
Measuring and Using Salt in Fermenting
What Equipment and Supplies Do I Need for Fermenting?
pH Corner
For those of you who like to check the pH of your ferments as they go forward, this ferment started at a pH of about 6.75 and after three weeks had reduced to 3.5 which explains it's nice tart flavor. For you more techie/scientific types who may want to measure the pH of your ferments, I can recommend this pH tester.
Serving Suggestions
When you make this giardiniera recipe, you'll have a delicious condiment with many uses. Especially delicious when served on eggs, with sausage, on bruschetta or diced up in your tuna or potato salad. Where I grew up in Chicago, one would often find a Chicago-style giardiniera being offered as a condiment for Italian Beef sandwiches. In many ways that giardiniera of my youth is similar to this. If you are looking for a little more heat, simply toss in an extra sliced-up jalapeño.
Buon Appetito!
Pin It!