Firecracker Pepper Garlic Hot Sauce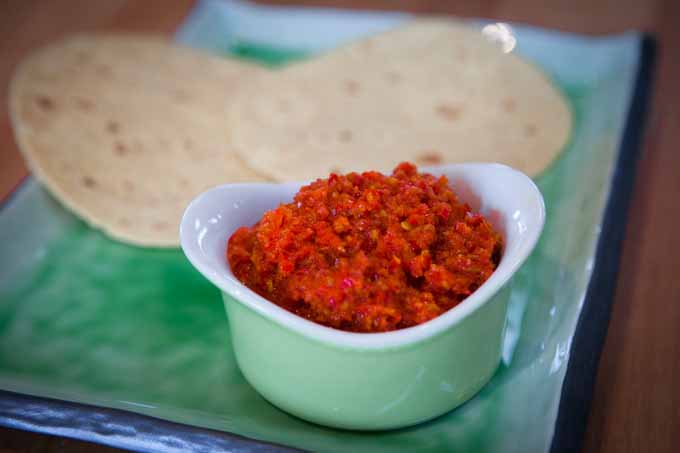 I stop in to my local co-op from time to time just to see what interesting things they may have to do a little fermentation experimentation with.  About 5 weeks ago, I discovered what they call "Firecracker Peppers," beautiful little conical peppers which can be a little intimidating by their bright red color.  I bought up a bunch of them along with another big bag of Jalapenos to ferment separately which made the person at the checkout counter wonder what I was up to with all these flamatory vegetables.
I had fallen in love last summer with a sweet chili garlic sauce commonly found in asian markets so I decided to try to create a recipe for something in that direction.  While this is very different in that it's not sweet or very liquid, it is truly delicious.  The interesting thing I learned through this process is how much of the heat of peppers can be dissipated through the fermentation process.  After several weeks, this transforms into a mild, slightly sour and mightily flavorful condiment.
Preparation Time: 5 minutes
Fermentation time: 3 – 5 weeks (mine was 5 weeks)
Yield: 1 cup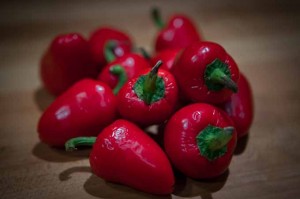 Ingredients:
12 Firecracker peppers
6 cloves of garlic
1 pinky sized piece of ginger (sorry, not officially sanctioned international weight/measures – I also have large hands)
1 pinky sized piece of turmeric
2T lime juice
1 tsp salt
Directions:
Place the whole peppers, garlic, ginger, turmeric, lime juice and salt in a food processor
Blend until everything is chopped up quite fine into nearly a liquidy paste
Place it in a glass, jar or bowl and cover with a cloth.  The best method I've found for this type of fermenting, where there isn't a bath of brine to submerge your ferment in, is to use an airlock.  It's not necessary, but it's worth exploring.
Wait 2-5 weeks, stirring occasionally and tasting as you go.   I waited 5 weeks before declaring it done
You could probably eat this right away, but the fermentation adds to and mellows the flavors really nicely and also helps with the long term preservation if you aren't going to eat it all right away.  I've found that it's a great addition to sauces.  Sometimes I'll drop a heaping teaspoon of it into a stirfried vegetable dish.  It can also make a nice spread for sandwiches, and although i haven't tried it yet, would imagine it to be a tasty addition to fried or boiled eggs.  It would of course make for a nice healthy chip dip, but you'll want to make a bunch more than this if you're thinking of using it in that way.  I consider this one a solid success.  If you try variations, please let me know.