Indian Spiced Cauliflower Sauerkraut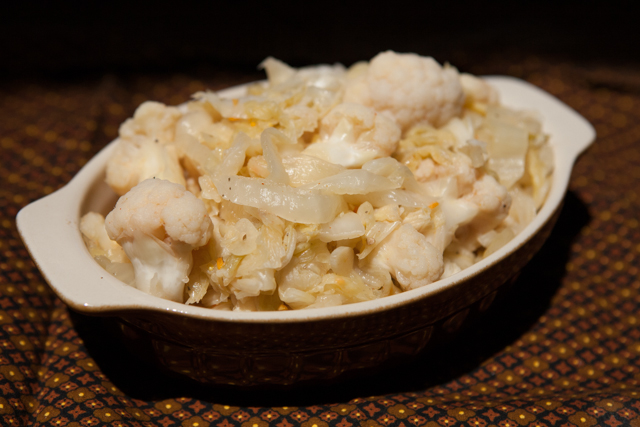 Always wanting to try something new in fermentation land, I picked up some lovely organic cauliflower and some napa cabbage to see what might happen.  Since I personally have an association between cauliflower and Indian food (Aloo Gobi yum!), I was inspired to make this with some indian-style spices.  It came out quite delicious.  The cabbage gets the fermentation going in earnest and adds a nice sourness to the flavor  Although I let this one go just 2 weeks, I have a sense that if it fermented longer, it would further tenderize the florets and make it all just a little more pleasingly sour. It also has a bit of a strong scent, just to forewarn you.  Perhaps leaving the garlic out would soften that.  Your call…., but it's delicious.
Preparation Time: 20 minutes
Fermentation time: 2 weeks+ (mine was 2 weeks)
Yield: 1 quart
Ingredients:
1 head napa cabbage (approx. 2 lbs)
1T salt
3 small heads of cauliflower
4 cloves garlic – slivered
1t cayenne pepper
1/2t ground coriander
1/2t ground cardamom
1t ground mustard
1/4t asofoetida (you can do without this but it's nice to include)
1 1/2T diced fresh ginger
1T diced fresh turmeric
Directions:
Slice the cabbage into ribbons about 3/8″ wide.
Place it is a large bowl and toss with the salt.  Give it a good half hour to start sweating, and give it some gentle kneading as well with your hands.
Break off / cut the cauliflower into small bite size florets and add them to the cabbage
Add all the other ingredients and toss well
Place it in a wide-mouth glass jar or other fermenting vessel.  Put some pressure on it with your fist to encourage compaction and to get the liquid level to rise higher.
Cover with a towel
Let it sit for a few hours, revisiting now and again to put pressure on it to get the liquid level to rise.
If the liquid does not rise high enough to cover the ingredients by about an inch, mix a brine of 3/4T salt per cup of water, pour that in and mix well.
Place a weight on it – my latest preference is to fill a plastic bag with water and place that in my jar on top of the items I'm fermenting.  It provides a good pressure, and the bag widens naturally to fill the jar and provide a nice air seal.
Cover with a cloth
Let it sit for a couple of weeks.
Mine ended up a little slimy.  Not sure what caused that but I simply rinsed it off in a colander before jarring it up and refrigerating.  I don't necessarily recommend one way or the other eating something that had a little slime too it, but I tend to be pretty fearless when it comes to eating fermented foods.
Nice simply as a side dish or a simple condiment to give a little counterpoint to a dish you might be serving.