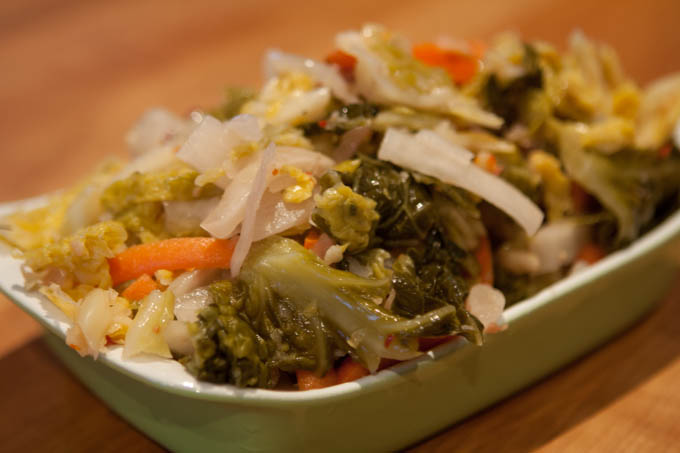 Kimchi is a traditional Korean dish of spicy cabbage.  Making your own fresh kimchi is about 37x tastier that that which you'll find in restaurants or grocery stores.   If you try to ferment anything and you are open to spicy foods, you definitely have to start here.  Once people taste some of this Kimchi, they invariably are curious about how to make it.  I've gotten many folks going on it and hopefully you are next.  Here is my basic kimchi recipe.  If you have your own favorite variant, please let me know.
Preparation Time: 30 minutes
Fermentation time: 3-7 days or longer if desired
Yield: 1 quart
Ingredients:
1 head napa cabbage
3 carrots
1 medium daikon radish
1 medium onion – I prefer red
4 cloves garlic
3 Tbsp fresh ginger
5 small dried red chilis (other options acceptable)
1/4cup salt
4cups water
Directions:
Chop the cabbage into large pieces – don't try to shred it or chop it too fine.  You'll find everything shrinks down during the fermentation process.  Slice the carrots and daikon into pieces approximately 1/8″ thick.  They can be whatever size you wish.
Dissolve a brine of 1/4 cup of salt to 4 cups of water. Best to use non-chlorinated water.
Place the cabbage, carrots and daikon into a large crock, bowl or glass jar and pour in the brine.
Using your fist, press down the vegetables until the liquid level rises to the top of the vegetables. The level may not rise sufficiently at first, but after an hour or so, with a few rounds of pressure on the vegetables, the liquid should rise to cover the veggies.  Place a plate on top of the veggies topped with a weight such as a jar of water.  Allow the vegetables to soak in the brine for at least 4 hours.  Feel free to let it sit overnight as well.  You'll note the liquid level continues to rise as the salt and pressure leaches excess liquid from the vegetables.
Drain the veggies by pouring off the brining liquid.
Separately, finely dice or mix a paste (personally I like to use a food processor) of the onion, ginger, garlic and hot peppers.  As to the hot peppers, the correct amount obviously depends on the type of pepper and how hot it is as well as whether they are fresh, paste, or dried. I've been using 5 dried red hot peppers per head of cabbage).
Mix the paste into the drained vegetables.
Place the combined veggie/paste mix in a crock, bowl or large jar. Place a plate directly onto the ingredients and put pressure on the plate and place a weight on it to maintain that pressure. You want liquid to be pressed out of the veggies and to rise to cover them.  It may take several hours for the natural liquids to draw out from the veggies but in my experience, I've never needed to add any additional liquid to cover them.  It is important that the vegetables remain under liquid as it needs an anaerobic environment for the fermentation to take place. Keeping the veggies from being exposed to the air also helps to prevent mold from forming. Cover with a loose fitting lid and wait 3-7 days, more or less. Keep tasting it as you go and watch how the flavors mellow and the brightness/aliveness picks up. If the room in which the fermentation takes place is cool, the fermentation process will be slower. You can certainly let this one ferment for longer periods of time. I sometimes let my kinchis go for 3-5 weeks. If you do so, you'll find that they continue to get more sour over time. Koreans are known to ferment their kimchi in a crock partially buried in the cool ground for several months, so there are many approaches.
I encourage you to get creative. I add turmeric root to the spicy paste sometimes which adds a different flavor complexity and a lovely yellow color.
These kimchis always seem to develop their own unique characteristics with each batch. I often find it difficult to eat the last bite because no future batch will ever be the same.
For serving, I like to mix some into rice or salads, or simply as a small side dish with asian-inspired food. My ritual is topping rice cakes with nut butter or tahini, avocado and a healthy heap of kimchi.