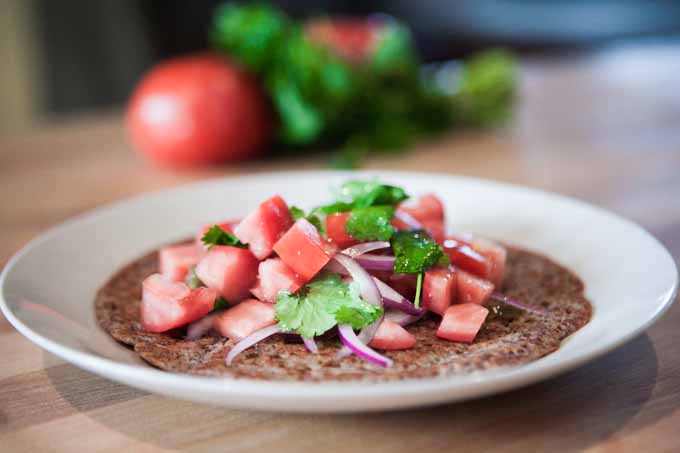 Sometimes necessity is actually the mother of invention, or at least the impetus for new recipes.  I was out of rice and had a hankering for some dosa so I mixed up a batch using red quinoa (prounounced kēn-ˌwä or kē-ˈnō-ə) and red lentils and it came out beautiful and delicious. For those of you not familiar with dosa, this recipe is for making a fermented batter which when cooked becomes an Indian crepe/pancake.  It is commonly made with  seeds, in this case rice and lentils, which are soaked, blended and then fermented. You can find my non-quinoa dosa recipe here.
As protein rich as rice can be, quinoa is a more protein intensive seed than the brown rice I am substituting for here.
Quinoa – 24gr protein per raw cup
Brown rice – 15 gr protein per raw cup
Lentils by the way have 50 grams of protein per raw cup so quinoa dosa becomes a very nice way for vegetarians to get a good serving of protein.
Preparation Time: 5 minutes
Fermentation time: 1-2 days
Yield: 4 cups batter (or six 3/4 cup batter pancakes)
Ingredients:
1c red quinoa (uncooked)
1c red lentils (uncooked)
1T fenugreek (you can do without this but it adds a nice flavor)
1/2t sea salt
2c water
Directions:
Place the quinoa, lentils, fenugreek, water and salt in a bowl (or your blender)
Let sit 4-6 hours or overnight if you prefer
Blend until smooth
Pour into a bowl and set on the counter uncovered for 1-2 days.  You'll see bubbles forming and the batter will puff up and as the fermentation progresses. The scent will gradually become more and more sour.
Prior to cooking, stir the batter with a spoon until smooth and creamy. Heat a skillet (if not non-stick, perhaps add the slightest bit of oil spread evenly).

Pour 3/4 cup of batter into the pan and tilt the pan in a circle to spread the batter more widely and evenly. Cook on medium flame. I like to leave my dosa fairly thick and substantial like a traditional American-style breakfast pancake, but the tradition in South India is to make a thinner batter and to use a ladle to spread it thinly in the pan and cook it as a crispy crepe which makes it easier to place a filling inside and use as a wrap.

Although not necessary, I like to place a lid over it as it cooks as it seems to help the topside cook through more completely and quickly

Once the top of the dosa appears as cooked through (no longer the consistency of batter), flip it over and cook for another minute or 2.

To tend to the unused batter, I put in in the refrigerator after about 3 days on the counter as the fermentation will tend to exhaust itself over time and the batter will lose some of its elasticity. It doesn't seem to last more than another couple of days in the refrigerator

Stir the batter each time before using until creamy smooth.
There are many ways to serve dosa.  To get kids to eat them, you can cook them in a waffle iron if you like and top with fruit and yoghurt.  I like to top with coconut oil and fresh fruit when eating for breakfast or with almond butter, avocado and curtido or sauerkraut for lunch.  For dinners, I simply place the cooked dosa on a plate and top with a spicy stir fry.  A spicy vegetable masala tops it off nicely as well.