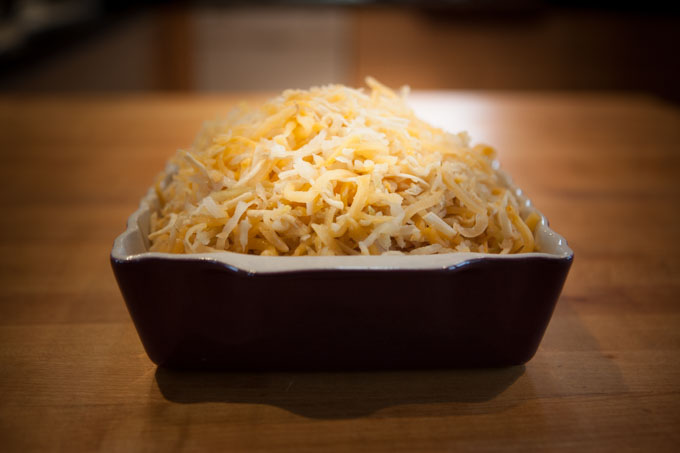 I love this one.  Again, it shows the versatility of the fermentation process. I was planning some travels over the winter holidays so I needed to clear out my refrigerator.  I had a bunch of different root vegetables so I experimented with fermenting them. The primary ingredient here is rutabaga.  I decided to make everything uniform by shredding the ingredients with my food processor.  I was actually hesitant at first as I wasn't so sure how this would come out, but I learned that including horseradish in a ferment can be a very nice addition if you don't go too overboard. The lesson learned here is go ahead and clear out your refrigerator and see what you can come up with.  If you try any modifications to this, please let us know.
Preparation Time: 20 minutes
Fermentation time: 2 weeks +
Yield: 3 pints
Ingredients:
5 oz daikon radish
1 1/2 lbs rutabega (mostly peeled)
8 oz fresh fennel bulb
3 oz fresh horseradish root (mostly peeled)
1 oz ginger
1 1/2 Tbsp salt
Directions:
Clean the vegetables.  As in all vegetable ferments, I clean the vegetables sufficiently but don't scrub them into sterility. The bacteria naturally found on the vegetables are what populate the fermentation and foster the alchemy. In this case I peeled 90% of the rutabega and horseradish because they had a pretty tough skin (I'll admit they had aged a bit in my fridge) that i didn't want to have show up in the final product.
Grate the daikon, rutabega, fennel, horseradish and ginger with a hand grater or with a food processor.
Place in a bowl and toss with the salt.
Place everything in a wide-mouth glass jar or other fermenting vessel.
Due to the salt in the water which breaks down some of the cell walls, additional water will leach from the veggies. Place a weight of some sort on the veggies to keep pressure on them and to encourage the liquid level to rise above the veggies.
If after about 6 hours or longer the liquid level is not above the vegetables, you can add some water (non-chlorinated – or chlorinated allowed to sit for a few hours) to barely cover.  If you do this, wash your hands and mix everything thoroughly to evenly distribute the salt that is present.
Cover with a towel.
Let it sit for 2 weeks.  Feel free to taste regularly as you go to get a feel for how the flavor changes. Be cautious as you don't want to introduce mold spores or other microorganisms.
Jar it up
Refrigerate to significantly slow the fermentation.
Serving Suggestions
This was delicious.  For serving suggestions, I'd suggest topping sausage or a roast beef sandwich if you are a meat eater, or on a veggie burger or vegetable sausage. Great on its own as a small pro-biotic side salad too.