Spicy Cucumber Kimchi-Style Pickles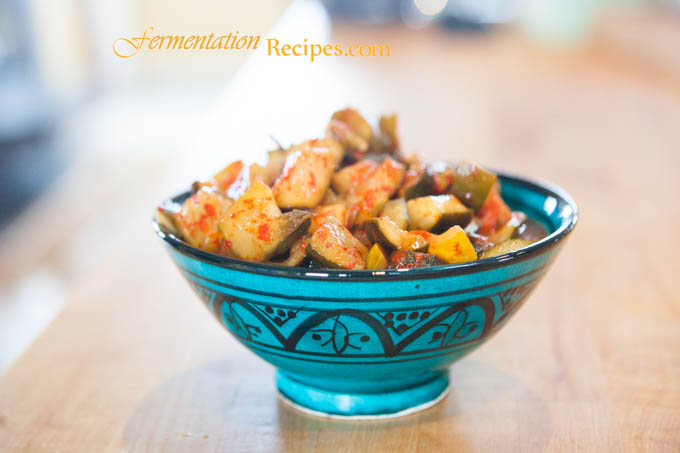 A friend of mine has a local fermented foods business and we often share ideas and techniques with one another.  She recently shared her recipe for cucumber kimchi with me and this one is delicious.  I tweaked her recipe a little and in my opinion it's fantastic – nice and crisp, sour like a good pickle yet spicy like a good kimchi.  Who needs regular pickles when you can have this?
Preparation Time: 20 minutes
Fermentation time: 5 days +
Yield: 1 quart

Ingredients:
6 medium unwaxed cucumbers (approximately 3lbs)
1 1/2 + Tbsp sea salt
2 Tbsp Red chili pepper powder (I used Korean Red Pepper as described in my Traditional Korean kimchi recipe)
4 green onions – use all the green parts (cut into 1/2″ pieces) and not so much of the white bulb part
Directions:

Clean the cucumbers. In order to allow some of the bacteria naturally found on the cucumber to remain for the fermentation, you want them cleaned well but not scrubbed to an immaculate finish. Definitely don't peel them.
Quarter each cucumber lengthwise into 4 spears.
Using a spoon, scrape the seeds from each spear and discard (or blend into a smoothie).
Cut the spears into chunks approximately 3/4″ wide.
Place the cucumber pieces in a bowl and toss with 1 1/2Tbsp salt.
The cucumbers will begin to sweat.  Leave them for about 7-10 minutes.
Rinse the cucumbers in a colander and drain.
In a bowl, combine the cucumbers with the green onion and chili powder and toss well.
Place everything in a fermenting vessel of your choosing.  You could use a smaller fermenting crock if you like, but I used a 1 quart mason jar which I packed full and covered with an airlock.
Compress the veggies (but don't "smush" them) and give it about a half a day to see if enough liquid continues to leach from the cucumbers to raise the liquid level above that of the veggies.  If not, mix a light brine of about 1/4 teaspoon per cup of water and pour over the veggies to ensure that liquid is barely above the veggies.
Cover and leave at room temperature for 5 days and taste.  If warmer than 70F then you might need less time. If cooler, perhaps more.  You can taste regularly as you go to get a feel for how the flavor changes.
Once the flavor is as you'd like it to be, refrigerate to significantly slow the fermentation.
These are very easy to make and quite delicious.  They would be great as an accompaniment to a burger or perhaps tossed into a salad. Although I haven't tried, I'm sure you could cut the cucumber into slices before fermenting to be able to put them on your favorite sandwich.