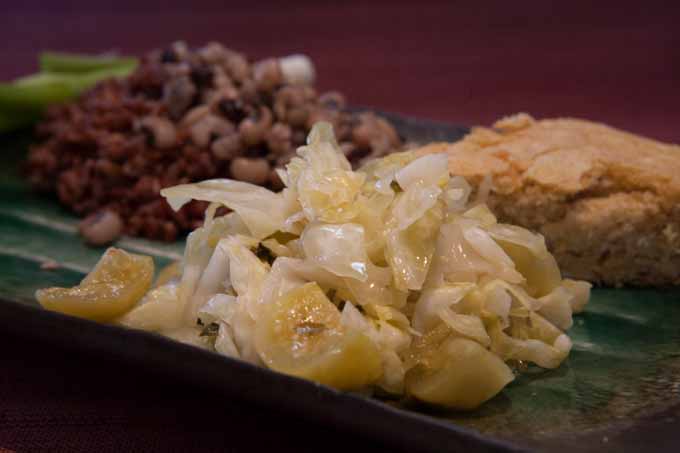 This recipe is a basic sauerkraut fermentation recipe with tomatillos added for a slight Mexican flair.  For those of you not really familiar with tomatillos, they are in the nightshade family and grow in a husk that can look somewhat lantern-like.  A staple of mexican food and salsas, they are not really hot, but rather tart, so they can add a different level of sourness to your kraut. Tomatillos, if more yellow or lighter green in color, much like these below that I used, can add a sweetness to the taste as well.
Preparation Time: 15 minutes
Fermentation time: 10-21 days
Yield: 2 quarts
Ingredients:
3 lbs green cabbage
1 lb tomatillos, removed from husk
2 1/2 T salt
1 1/2 T ground coriander
1 cup loosely packed cilantro
Directions:
Chop the cabbage. I prefer to cut it in fat ribbons about 3/8″ wide.  No need to grate it although you are welcome to.  I compost the dense nub that remains at it's base.
In a large bowl, toss the sliced cabbage with the salt and let sit for 30-60 minutes until the cabbage starts to sweat.
Cut the tomatillos in half and mix them in.
Add the ground coriander and toss well
Place everything into a fermenting vessel including whatever liquid may have leached from the cabbage.  I prefer using a 1 gallon glass cookie jar but a fermenting crock would work just fine.
Press down using your fists or other implement. You'll notice that with pressure, you can squeeze out a little liquid which will pool at the bottom. When you tire of compressing it, place something with some weight on top of the cabbage to effectively continue pressuring the cabbage while you are resting. I prefer a 1/2 gallon glass jar filled with water.  The salt will continue to help to leach liquid from the cabbage.
Compress with your fist a few more times over the next hour or two and try to get the liquid level up higher. Your goal is to have the liquid cover the cabbage by an inch or so when under pressure in order to provide an anaerobic environment within which the fermentation can take place.
If after several hours or overnight you can't get the liquid level high enough (different cabbages have differing levels of moisture content), add some water (without chlorine please) so that when under pressure, the ingredients are coveredby an inch or so of liquid.  Stir well to equalize the salinity level.
Place a weight on it.  A half-gallon glass jar is fine, but a preferred method is to use a clear plastic bag filled halfway with water and tied closed while allowing the bag to remain loose.  You can place that loose bag of water into your fermenting vessel and allow it to settle in and take the shape of the vessel.  In that way, a nice seal is made around the edge to keep oxygen and other potential contaminants out.
Cover with a clean towel and let it sit for 10 days to 3 weeks. Feel free to taste it every few days to gauge the progress of the fermentation flavor.
Once it gets a nice tangy flavor, place it in the refrigerator.  I prefer to place in mason jars first so they are ready to hand over as gifts as desired.  The fermentation should take about ten days to three weeks or so but that will vary with room temperature and taste preference.
My stepmother Sandra is visiting right now and, originally from the south and utter whiz in the kitchen that she is, she whipped up some rice with black eyed peas and cornbread, and this salad/garnish worked as a great accompaniment (see top image).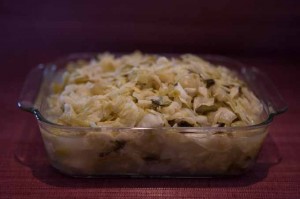 Also great as a fresh healthy garnish on tacos, burritos, or with any Mexican food really.
Buenos krautos…