Fennel Apple Golden Beet Chutney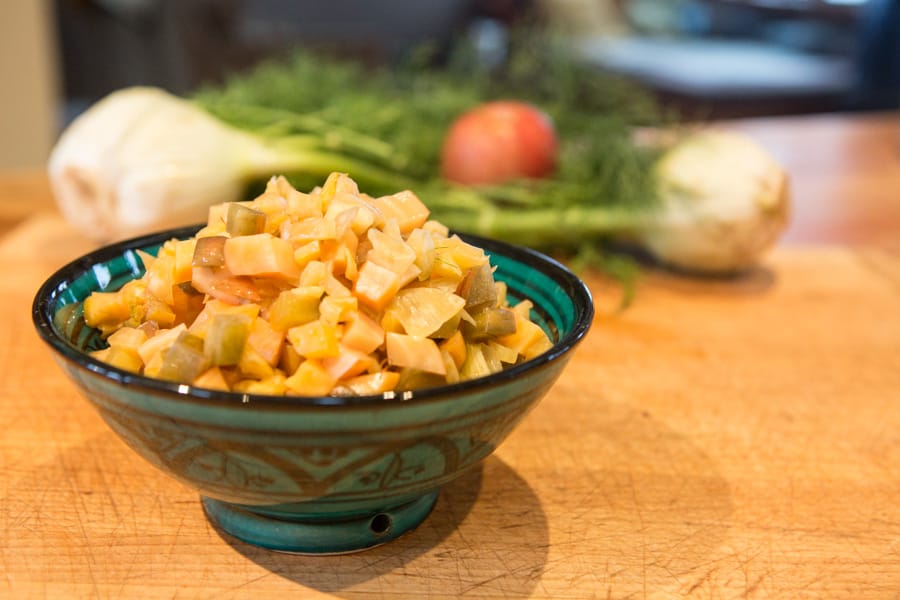 This is a really good one. You're just going to have to trust me here. I hadn't fermented much with fennel prior to this, but with it showing up readily for wild harvesting or at my local market, I thought I'd dive in with some experiments to see how it goes.  I have another Fennel Kraut brewing happily in my kitchen which I'll likely share with you at a future date, but truth be told, this chutney here is just so darn good it needed to be shared right away. The fennel brings a nice anise-like flavor, the beet adds its own texture and beetyness and the apple brings a little sweetness rounding everything together with grace. After fermenting together for awhile, the flavors begin to meld, and a delicious toothy, nuanced deliciously flavored chutney emerges.
Fennel Apple Golden Beet Chutney

Delicious, well-balanced fermented chutney with Fennel, Apple and Golden Beets. You'll love this fermentation.

Ingredients

1 large golden beet
1 large bulb fennel
1 medium apple
2 tsp salt

Instructions

Prepare the ingredients

- Lightly wash the beet and fennel. Peel the skin off the apple. No need to remove the skin from the beet.

Cube the ingredients

- Cut the beet, fennel and apple into cubes approximately 1/4″ x 1/4″

Toss with salt

- Place the ingredients in a bowl and toss with the salt.

Place everything in fermenting vessel

- Take all ingredients from the bowl including the liquid which may be pooling at the bottom and place them in your fermentation vessel. If you're looking for one, I find this fermenting crock works great, but I've also used 1 gallon Anchor Hocking Jar. Lately I've been doing more small batch ferments in mason jars with attached airlocks.

Compress

- Compress the ingredients in the vessel by pressing down with your fist or with a "Pickle Packer."Your goal is to have the liquid rise to more than cover the ingredients. If you are curious where the liquid comes from, the salt has the ability to break down cell walls and draw the liquid from them. Place a weight on top of the ingredients. If you use a fermentation crock, then it should come with it's own weights. If you use the cookie jar approach, you can take a ziplock bag water and use it as a weight If the liquid doesn't rise up sufficiently to cover the vegetables, don't fret just yet. Just give it some extra time, perhaps up to 8 hours or overnight. Compress again. If the liquid still doesn't cover the contents, add a little water and mix it all up good so the dissolved salt is well distributed. The more fresh your ingredients are, the more liquid will naturally leach from the veggies.

Cover

- if you're using a fermenting crock, it will undoubtedly come with a cover. If using the glass jar approach, then a good cloth will do. An airlock
is essential for working with smaller batches in mason jars.

Wait impatiently

- Leave it to ferment for about 10 days. Feel free to taste regularly as you go to get a feel for how the flavor changes. This one changes quite a bit during the fermentation so it's kind of fun to keep nibbling. "Pull the plug" on the fermentation whenever the taste is how you like it.

Jar it up

Refrigerate

- This helps to significantly slow the fermentation.

https://www.fermentationrecipes.com/fennel-apple-golden-beet-chutney/1676

Copyright 2017 - FermentationRecipes.com ©



Serving Suggestions
I haven't quite figured out what best to do with this, save for my predilection to eat it straight out of the jar.  Regularly.  This delectable can be served as a simple side dish on a plate along with a sandwich.  I've also enjoyed taking a couple of tablespoons of it and simply tossing it in with a nice salad. Goat cheese in the salad is a nice compliment.
Pin It!
| | | |
| --- | --- | --- |
|   | | |