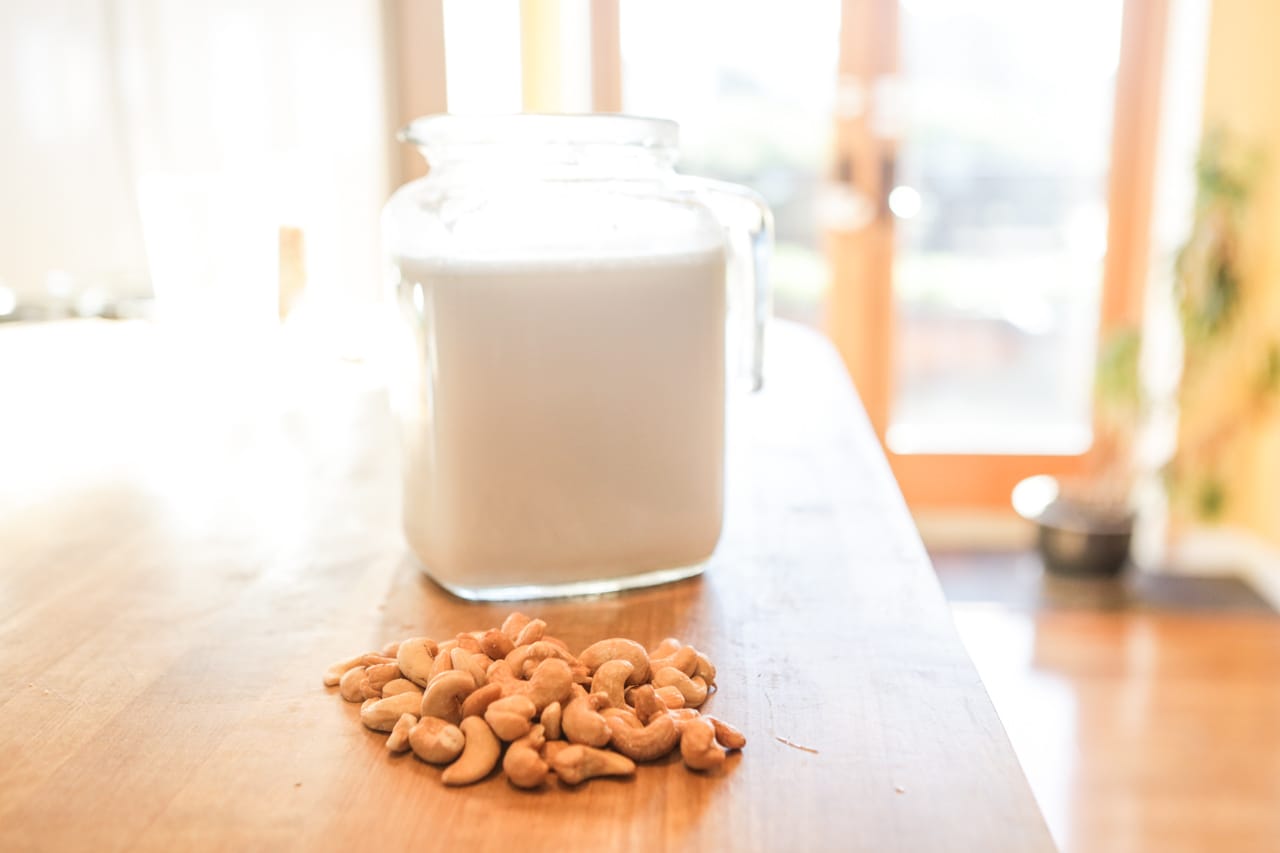 Of all the ferments that I make, and I do make many, fermented cashew milk is the one I make more than any other. I've made this recipe as simple as possible. If fermenting intimidates you at times, this fermented cashew milk recipe should help you relax and revel in your growing fermenting confidence. Making cashew milk is perhaps the easiest of the alternative milks to make, and then fermenting it is also remarkably easy.
Starting your mornings off with a healthy satisfying breakfast is one of the pillars of a vibrant lifestyle. For the past several years, my go-to breakfast consists of home-made muesli which is allowed to soak for a half an hour or so in fermented cashew milk. There may be other ways to utilize fermented cashew milk, but adding it to your muesli is simply divine, adding a nice little healthy tang to each delicious bite.
The first step is making cashew milk. The great thing about making cashew milk as opposed to almond milk, soy milk, rice milk or oat milk is that you really don't need to strain it after blending. Nut milk bags come in handy with other alternative milks, but since cashews are lower in fiber and also don't come wrapped in a skin, they blend up nice and creamy.
Once you try this, don't be surprised if you find yourself licking the bowl clean after finishing your cereal like I do. If you must, you can look both ways to be sure no one is watching!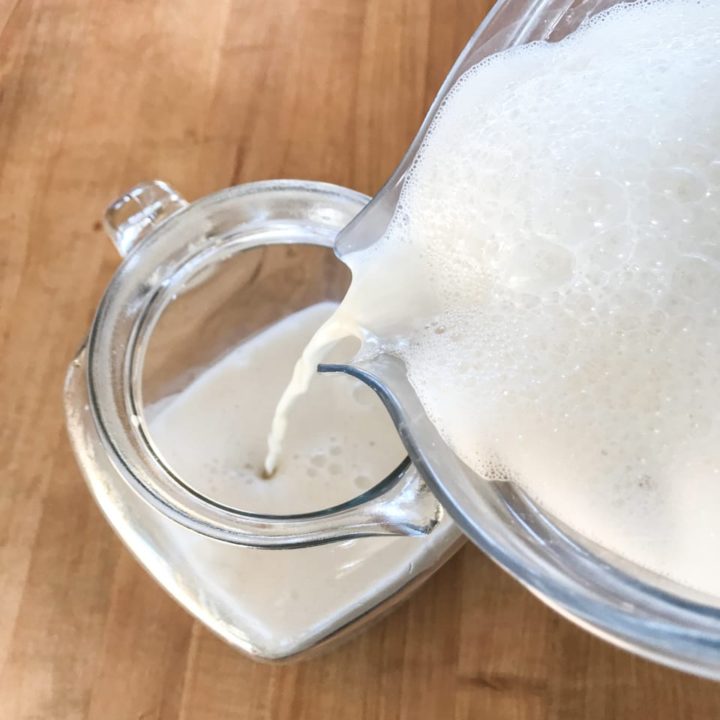 Fermented Cashew Milk
Additional Time:
16 hours
Total Time:
16 hours
10 minutes
Super easy to make fermented cashew milk recipe.
Ingredients
1 cup raw cashews
7 cups water
yogurt starter (most any unsweetened store-bought yogurt is fine - for future batches, you'll simply use the last of the previous batch)
Instructions
Place raw cashews in a blender with about 6 cups of water.
Soaking the cashews is fully optional. Soaking them will perhaps make them blend up a little creamier but I haven't found it to be necessary at all.
Blend on high for about a minute. I personally use a fancy schmancy Vitamix blender but I'm sure you'll be fine using another blender.
Make a Latte - I like to have a little ritual of making a cashew milk based latte whenever I make a new batch of cashew milk. After blending, there is a nice frothy foam layer on top, great for topping your chai latte or matcha latte or whatever kind of latte you might have a hankering for.
Add the starter You have a couple of options for starter. The easiest is to buy a small single-serving size of yogurt and add that in as your starter. Be sure it contains "live" cultures. I usually opt for a non-dairy yogurt and search for one with the greatest number of bacterial strains. Regular dairy yogurt will work fine too. You can also buy a yogurt starter online if you prefer. For subsequent batches, simply add the final cup of the previous batch as a starter. I'm probably about 30 generations deep in my current fermented cashew milk.
Add the remainder of the water and blend on low simply to mix the starter more evenly throughout the cashew milk.
There is no need to strain the cashew milk as it should blend to a fairly consistent texture.
Pour the cashew milk into a glass or ceramic vessel of your choosing. A half-gallon mason jar would work fine.
Cover with a cloth or airlock to prevent wild yeasts or mold from settling into the milk.
Place into an incubator. There are two very easy forms of incubator to use. One option is an Instapot set to the yogurt setting. The other is to place an electric seed starter mat on the bottom of your oven. Simply place your vessel with the milk onto the seed starter mat and close the door. This seems to keep the milk at a nice temperature for fermentation.
Incubate for about 16 hours. You can vary the fermentation time for a more or less tart taste. I've left my fermented cashew milk to incubate for as long as 24 hours without any issues.
Stir before use. The cashew milk will stratify into different layers. Don't fret, that's normal. Simply stir the milk well before pouring. There will be a slight amount of cashew sediment at the bottom but that will become well integrated with a good swirl.
Serving Suggestions
As mentioned, fermented cashew milk works great with muesli in the morning. I prefer a 1-1 muesli/milk ratio, using about 1 cup of each. If your appetite is a little less hearty, perhaps a half a cup of each will do. Allow to sit for 20 minutes or longer if desired before eating. Beautify with your favorite fruits and nuts.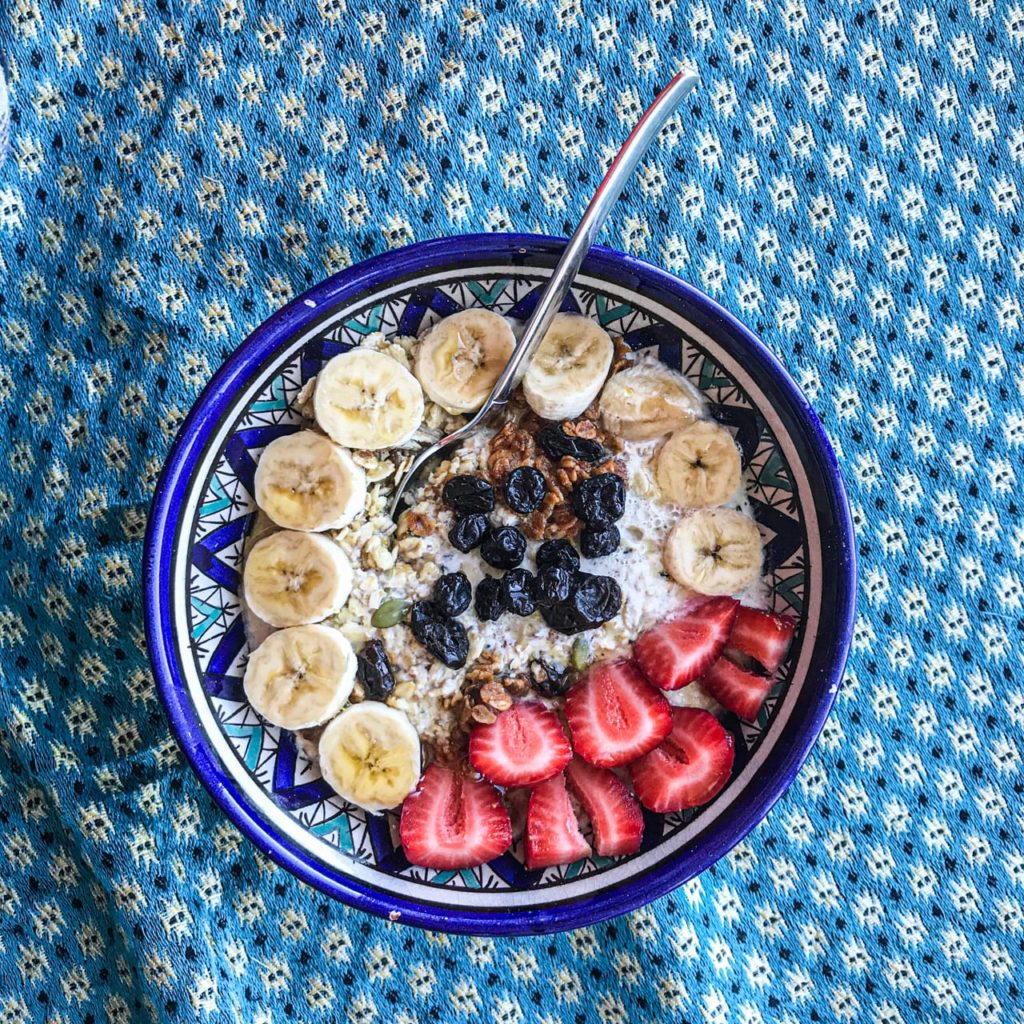 Why you should be making your own nut milks
If you are a fan of alternative milks, there is really no need to be buying them in a store. As you can see, making them is quite straightforward. By making your own, you avoid the creation of wasteful packaging. You can also save a bundle of money over time. There really isn't any solid reason for consuming actual animal-based dairy. Avoid the negative health impacts of consuming dairy by simply making nut milks (cashews are technically seeds, but no matter). In the process you'll contribute to a little less cow misery along the way.