How Long Will My Ferment Last?
I often hear from people asking how long they can expect their fermentation to remain edible once the fermentation is complete.  The general answer is a long time!  One of the primary reasons that people have been fermenting foods for millennia is food preservation.  Before the age of electricity and refrigeration, much of the world needed to be able to collect foods when ready to harvest yet store them for consumption throughout the remainder of the year. While there are other techniques for storing foods for longer periods (most notably drying), fermentation not only transforms food by making it easier to digest, synthesizing nutrients, and enhancing flavor, but it helps to make foods last much longer, often indefinitely.
Through the process of fermentation, the environment within which the food resides becomes increasingly more acidic.  This byproduct of fermentation (largely lactic acid) creates an environment which helps prevent the growth of harmful microbes, while allowing more beneficial ones to thrive.
After your ferment reaches the flavor level which you desire, it is best to store it in the refrigerator if possible. If not possible then the cooler the place the better, as the cooler temperature considerably slows the fermentation process. Although fermentation continues at cooler temperatures, it slows to an extent that helps to maintain the acidic/flavor levels and preserve the food for a longer period of time.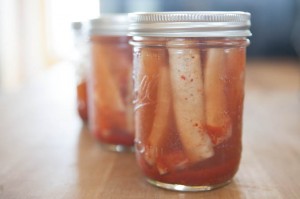 I keep a small refrigerator in my garage for storing excess ferments and occasionally open a jar of something that may have been there for a couple of years or more. It's always tasty, albeit generally more sour that it was when first placed there. The best long storage ferment that I have is my Fermented Spicy Daikon Radish Spears. They are tantalizingly sour yet still sufficiently crispy.  KimChi can last a long time too but it does gain more sourness with time. It's up to you whether or not that suits your palate.
As always, let your taste and eyes be the judge.  If a ferment just seems "off" or has become mushy, or obviously moldy, you can toss it, but almost always, they age just fine. I'm looking forward to the day I can taste a 10 year old ferment and see how it has developed over that longer time period.