Japanese-style Fermented Spiralized Radish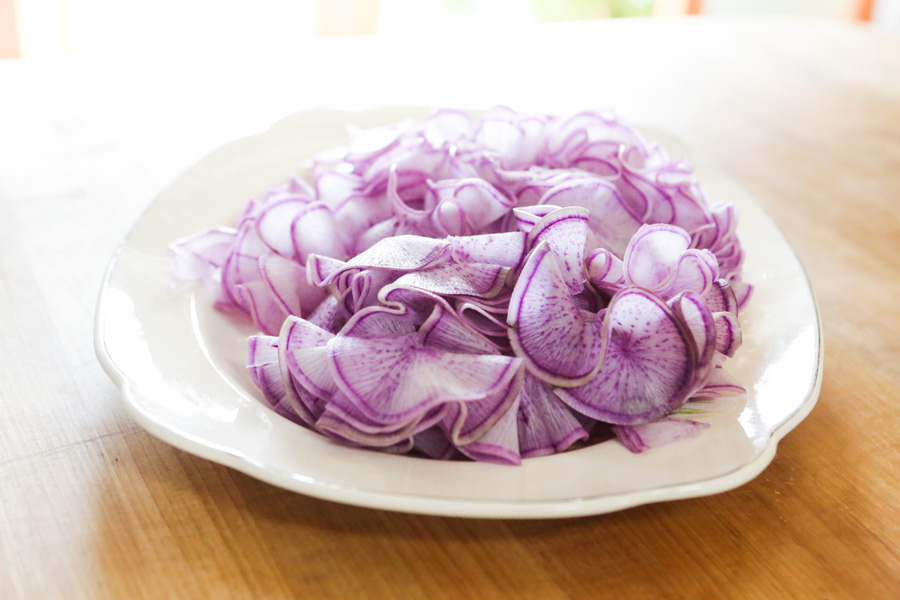 Japanese cuisine often has a wonderful knack for combining delicious food with a beautiful presentation. This Japanese-style fermentation recipe utilizing spiralized radishes is the perfect tasty adornment for your Japanese-inspired meals. For this recipe, I utilized some beautiful purple daikon radishes. You can of course substitute some other radish in it's place, but if you can find these, the beauty of this radish deserves to be in the forefront. Whenever some new beautiful vegetable appears in the market, I can usually be found standing in the aisle with a look which passing cart pushers can interpret as, "now, what the heck am I going to do with this?" Not until I took these purple daikon radishes home and saw their beautiful cross-section did I decide that spiralizing would be the best approach. If you don't have a spiralizer, they are a great little tool you might want to consider adding to your kitchen.  There are manual spiralizers which I utilized for this, or you can go with a fancier electric spiralizer. With the option of making spaghetti-like threads or thin long ribbons, a spiralizer can allow you to add some flair to many different vegetable ingredients.
Japanese Spiralized Purple Daikon Radish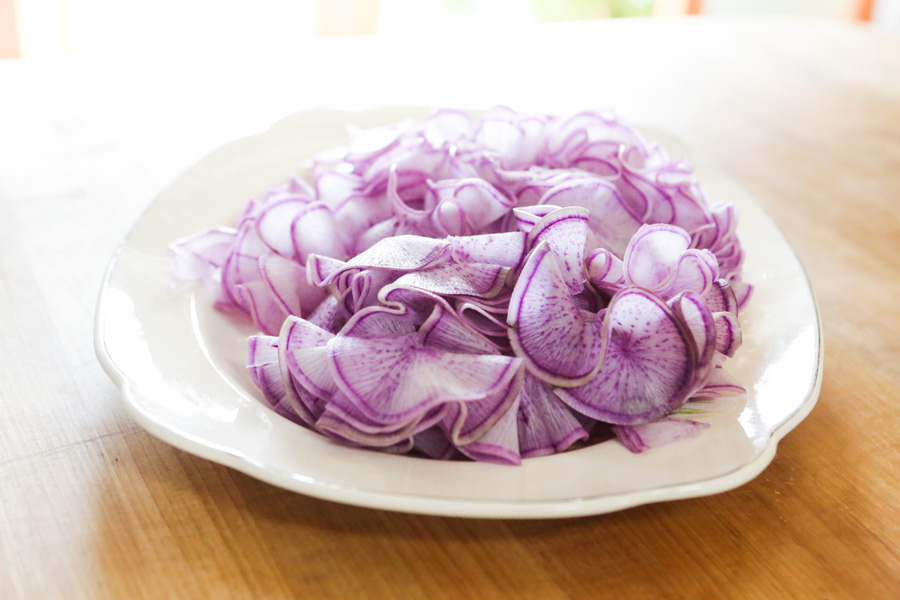 Ingredients
1.5 pounds purple daikon radish
6 green onions
3/4 Tablespoon sea salt
Instructions
Prepare ingredients

- gently clean the radishes and green onion. Cut the green onion into pieces approximately an inch long.

Spiralize

- utilizing your spiralizer, spiralize the radishes.

Toss with salt

- place the spiralized radishes and onion in a bowl and toss with the sea salt. Allow them to sit for 30-60 minutes until they begin to sweat.

Place in fermentation vessel

- Place the salted ingredients into your preferred fermentation vessel. Be sure to include all liquid which may have pooled in the bowl after salting. For this fermentation, I used a 1 quart mason jar topped with an airlock. For larger quantities you can use a more formal fermentation crock such as this one.

Wait impatiently

- allow to ferment for a few weeks. If you allow it to ferment longer, you'll be fine. The dish will gradually get more sour.

Refrigerate

- once the fermentation is complete, place the ferment into storage jars (if you're not already using a mason jar) and refrigerate.
https://www.fermentationrecipes.com/japanese-style-fermented-spiralized-radish/3137
Copyright 2017 - FermentationRecipes.com ©
Other Articles of Interest
Why Everyone Should Ferment with an Airlock
What Equipment and Supplies Do I Need for Fermenting?
Measuring and Using Salt in Fermenting
Serving Suggestions
This Japanese-style fermentation shines as a garnish on a beautiful plate. Of course works great with Japanese food, but really can work wherever you feel like you need a little splash of color and tartness.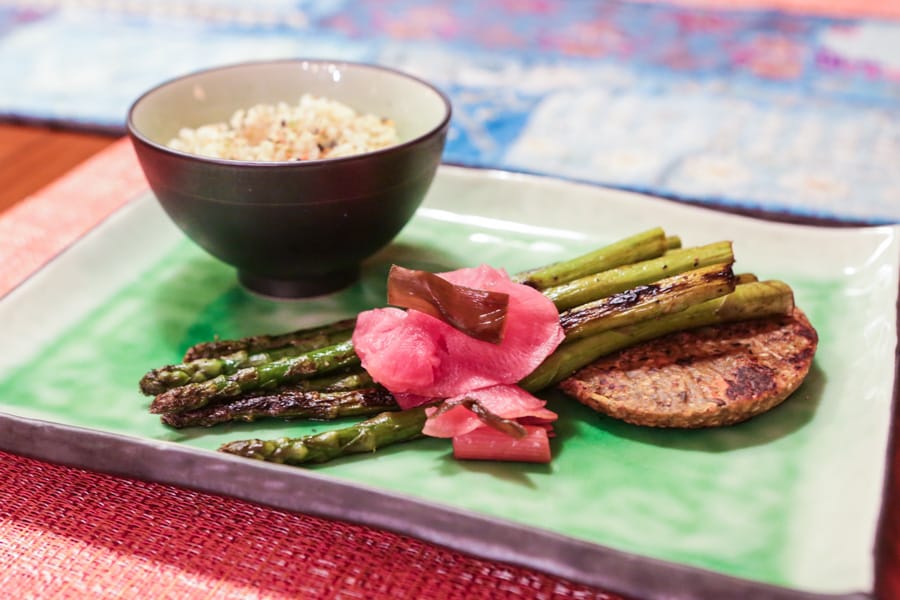 Pin It!