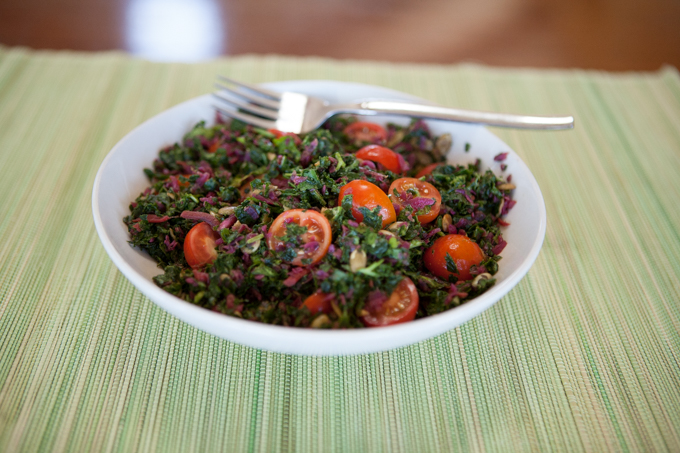 One of my favorite ways to make a salad is to combine kale with something fermented.  This particular version is my favorite and is about as healthy AND delicious a salad as you can make.  But it's not just beautiful, the combination of kale and red cabbage (the main ingredient in this curtido) provides excellent dietary fiber, protein, vitamins, minerals, bounties of antioxidents and special nutrients to support your healthy diet. Add in the probiotics of the fermented curtido (you could also use Red Cabbage Sauerkraut if you prefer) and you've got a slam dunk healthy delicious salad.
I posted a recipe for making curtido with red cabbage.  For those who aren't familiar with curtido, it's a South/Central American fermented cabbage dish with carrots, onion, jalapeno and oregano.  It's very easy to make and doesn't take long to ferment so it can easily be ready in time for your upcoming dinner or potluck.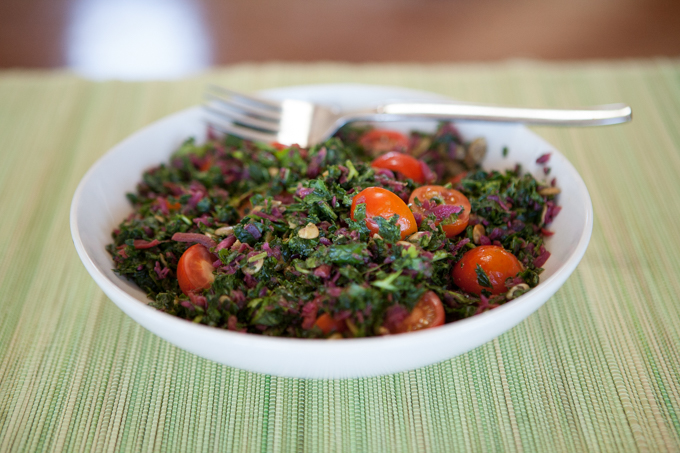 Ingredients
Salad

1/2 lb dino kale leaves, de-speared
small handful fresh cilantro (optional)
1/2 cup shredded curtido see recipe here
1/4 cup raw unsalted pumpkin seeds (or toasted pepitas if you prefer)
12 small cherry tomatoes, cut in half
Dressing

(You'll only need 2 tablespoons of the dressing for this recipe, but it's so good I like to make extra)
4 Tbsp soy sauce (I prefer nama shoyu as it contains live enzymes)
2 Tbsp sesame oil
2 Tbsp vinegar (I use kombucha vinegar)
4 Tbsp tahini
1 1/2 Tbsp nutritional yeast
1 tsp turmeric powder
Instructions
Prepare the kale

- Remove the main artery of the kale leaves. The easy way to do this is to hold the thick end of the stem with one hand and run your thumb and pointer finger up the stem, removing the leaf from the stem. Stop when the stem breaks and toss out the stem.

Dice the kale

- If you have one, place the kale and optional cilantro into a food processor and pulse it until it is fully diced. Don't overdo it.

Mix with dressing

- mix with only 2 Tablespoons of the dressing and let it sit for a minute or two so the kale can absorb the flavors

Add other ingredients

- Add the shredded curtido, pumpkin seeds and cherry tomatoes and combine
https://www.fermentationrecipes.com/kale-curtido-salad/1287
Copyright 2017 - FermentationRecipes.com ©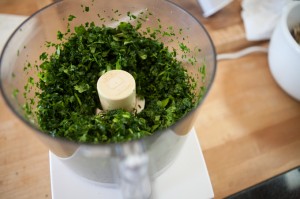 The fine dicing of the kale helps to tenderize the kale and make it easy to consume in it's raw form.  I promise you you can't go wrong with this salad. It's quite delicious.  I sometimes make this salad with sauerkraut rather than curtido and it works just fine that way too.
Enjoy!