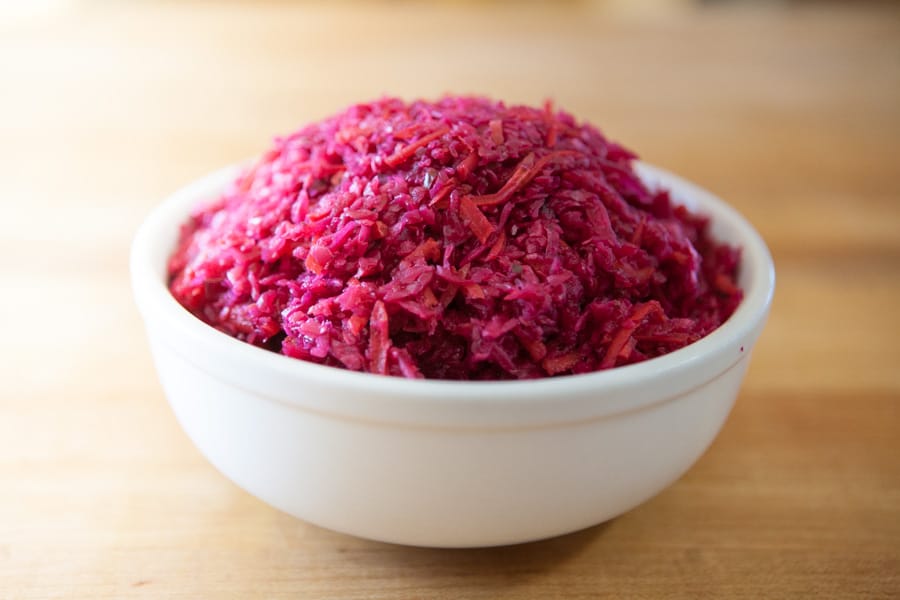 Fermented curtido remains one of my favorite ferments.  I love it's flavor, versatility and ease of preparation. While I've posted a curtido recipe here before, I wanted to share another way of preparing it, more like a slaw, which lends itself to alternative ways of serving. it's  especially easy to make if you have a food processor, although a hand grater works fine too. I used red cabbage (I still don't know if it's best to call it purple cabbage) rather than the traditional green cabbage, partly because I love the intensity of the color when it's done, but also because it packs more of a nutritional punch.  I wrote some more about the nutritional benefits of red cabbage in an earlier post if you are curious
Please note that when making slaw-slyle ferments, it is especially helpful to use a fermenting crock or airlock as the small pieces naturally want to float to the surface, making for a greater chance of surface mold. I've made this a few times now and one time while using the jar-in-a-jar technique (which I depict below) I ended up with mold and had to discard. I've since committed to making this in a fermenting crock to consistently more positive results. Making this using an airlock such as in this kit from MasonTops is definitely advised.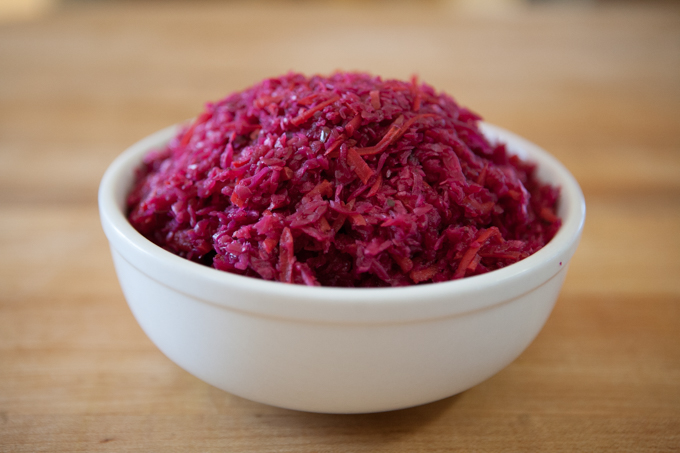 Fermentation Time: 3-7 days although you could allow it to go longer
Ingredients
1 head red (purple) cabbage, shredded
1 medium onion, shredded
2 medium carrots, shredded
2 jalapeño peppers, seeded and diced
1 1/2 Tbsp sea salt
3/4 Tbsp dried Mexican oregano (Italian fine but I prefer the flavor of Mexican for this recipe)
Instructions
Prepare vegetables

- shred the cabbage, onion and carrots and place in a large bowl. Dice the jalapeño and add to bowl.

Toss with salt

- add the salt and oregano and toss

Let it sit

- Let it sit for 30 minutes or so until it begins to sweat

Place all ingredients in a fermentation vessel

- you can use a fermenting crock, or perhaps a 1 gallon Anchor Hocking Jar. Don't forget to include any liquid that may have leached from the veggies.

Compress

- Use your fist to compress the mix into the bottom of the vessel, encouraging the level of the liquid to rise. I love these Pickle Packers which make compressing veggies much easier.

Place a weight directly on top of the mix

- the point of this is to further the extraction of liquid from the veggies.

Cover

with the lid to your crock, or with a cloth

Ensure liquid is covering the veggies

- Within 8-10 hours, there should be enough extracted liquid in the container to cover the veggies completely. Add a little water if necessary to make sure the veggies are covered by an inch of liquid. If adding water, mix it thoroughly again to give the salt a chance to fully integrate into the additional liquid

Allow to ferment 3-5 days

- This ferments fairly quickly to the point where the flavor is delicious in a relatively short time. You can of course ferment it longer and it will simply grow more sour Should you decide to allow it to ferment longer (up to several weeks) , it will continue to grow more sour.

Jar it up

- When ready, jar it up and refrigerate to significantly slow the fermentation
https://www.fermentationrecipes.com/shredded-purple-curtido/1271
Copyright 2017 - FermentationRecipes.com ©
Other Articles of Interest
Why Everyone Should Ferment with an Airlock
What are PREbiotics and Why Should I Care
Serving Suggestions
Serve it as a simple side salad, as a healthy topping to football game nachos, or a garnish along with traditional pupusas.  I like to put it (or any sort of fermented cabbage dish really) as a topping to dosas.
I also posted a recipe for mixing this curtido with diced kale in making a delicious salad.  You can check that recipe out here.
Pin It!