Making Your Own Soy Yogurt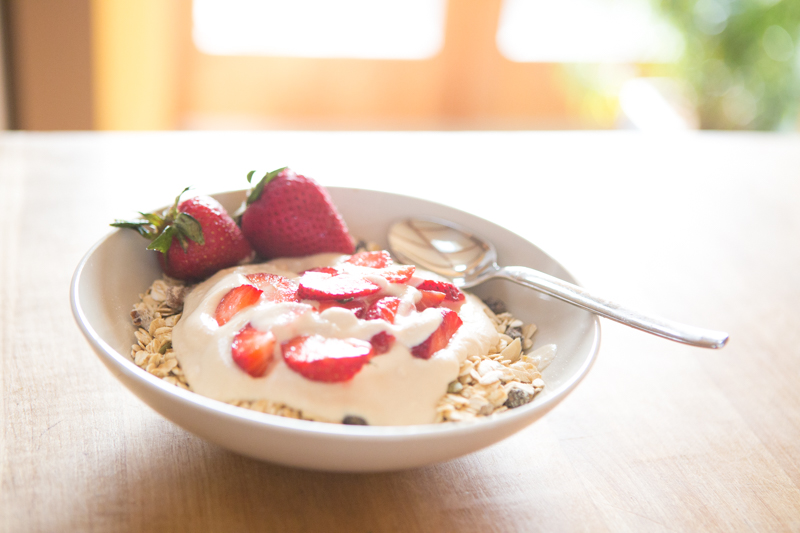 Been looking for a Soy Yogurt recipe or recipe for other non-dairy yogurts? Look no further. This soy milk yogurt can turn out creamy and delicious. It has been several years since I switched my diet to one which is largely vegan, but just recently I started to miss the yogurt I once started my day with atop my cereal. So why not make some non-dairy yogurt?
You'll may see soy yogurt and coconut yogurt in your local grocery and other places, but why not just make your own?
The result? A rich and creamy tangy delight. If you wish, you can start with store-bought soy milk (or coconut milk or almond milk), but I find the best home made yogurt comes when I make my own soymilk. In this recipe here, I'll show you how to make your own non-dairy milk. As I've been trying to limit the amount of packaging (waste) I use, I almost always make my own "milks."
As for making yogurt, you can send away for starters, but all you really need to do is buy a small container of live soy yogurt. If you don't care about ingesting a little dairy, any yogurt will do, soy or not, but the important thing is to make sure the container states that it is a "live" culture. The beneficial bacteria involved in making yogurt are generally Lactobacillus bulgaricus and Streptococcus thermophilus although sometimes Bifidobacteria and other lactobacilli are added. When I'm trying to choose between all the different yogurt options, I generally pick the one with the greatest array of bacteria strains. During the fermentation period, the natural (and added) sugars are consumed, converting the taste and texture to the tart and creamy goodness many of us love.
I'll walk you through this soy yogurt recipe in two stages here, 1) making the milk and then 2) turning that milk into yogurt. If you purchase the soy milk, you can scroll down to the "Making Yogurt from Soy Milk" section.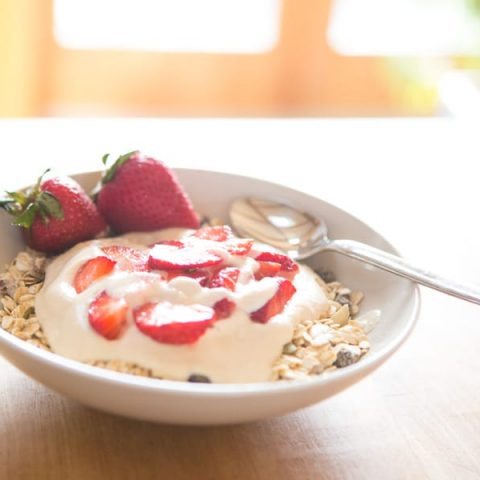 Making Your Own Soy Yogurt
Total Time:
12 hours
30 minutes
Ingredients
1 quart Soymilk (if not making your own soy milk)
1/4 cup soy yogurt purchased from store or gifted from fermenting friend (or for most consistent results use a pre-packaged yogurt starter). You can actually use any live yoghurt (dairy or non-dairy) as a culture if you wish.
or, if making your own soymilk
1 cup dry soybeans
3 Tablespoons sugar (I used Coconut sugar) – use more for greater sweetness
1 quart water
vanilla extract if desired to taste
Instructions
Making the Soy milk
Prepare the soybeans - Simmer the dried soybeans in water over low heat for about 2 hours. While I've read of some people simply soaking the soybeans overnight and blending them, in my experience cooking the soybeans first helps with making a much creamier milk base from which to make the yogurt. Pre-soaking your soybeans overnight can reduce that cooking time quite a bit. Pre-soaked soybeans cooked in a Pressure Cooker will need only about 15 minutes to cook. These Instant Pots are becoming very popular electric pressure cookers with many other functions as well. I use mine all the time now.
Drain the soybeans - and rinse
Blend - place the soybeans in a blender and add the quart of water and the sugar. Blend until fully liquified.
Strain - If you don't mind a slightly grittier testure, you can skip this step. Using a filtration medium such as a nutmilk bag, (I use this one), strain the soy milk to remove any solids. If you squeeze on it a little extra you can get some of the creamier part into your soy milk.
Making Yogurt from Soy Milk
Heat the soy milk - Pour the soymilk into a pot and heat it on the stove until it reaches 110 – 115 degrees Farenheit (43 – 48C). To be extra safe regarding avoiding harmful bacteria, you can bring the soymilk to a boil first and then allow it to cool to the proper temperature.
Pour the warmed soy milk into a bowl (or Instapot)
Add starter - Mix in the 1/4 cup of live Yogurt (or pre-packaged yogurt starter)
Add vanilla extract - to taste as desired
Warm the oven - If using an oven as an incubator, I prefer to use a heating pad like this seed starting mat to keep the oven warm. You can also simply run your oven at 400 degrees for approximately two minutes and then turn it off. The best really is to use an Instapot and set it to the yogurt setting. Set the timer for 12 hours
Place the bowl in the oven - and let it sit for about 4 hours or overnight
*If you're not using a heating pad, warm the oven again by removing the bowl from the oven and again running the oven at 400 degrees for two minutes
return the bowl to the oven - for another 4 hours or overnight.
Taste it (as if you haven't done so already!)
Don't Double Dip! - Honor the momma what raised you and refrain from "double dipping" the spoon (to avoid introducing other bacteria)
If you want to make your yogurt more tart - re-warm the oven and place the bowl in for another 4 hours
If you want it more sweet - add more sugar of your choosing
Nutrition Information:
Serving Size:

1/2 cup
Amount Per Serving:
Calories:

75.73
Total Fat:

1.26g
Saturated Fat:

0.01g
Sodium:

41.31mg
Carbohydrates:

12.45g
Fiber:

1.37g
Sugar:

7.88g
Protein:

2.96g
Serving Suggestions
Make a nice fruit parfait by mixing with fresh fruit, or place over waffles or your favorite cereal (I admit I'm addicted to my home made muesli pictured at top of page). Kids might love it on top of your homemade dosa or quinoa dosa.
Pin It!