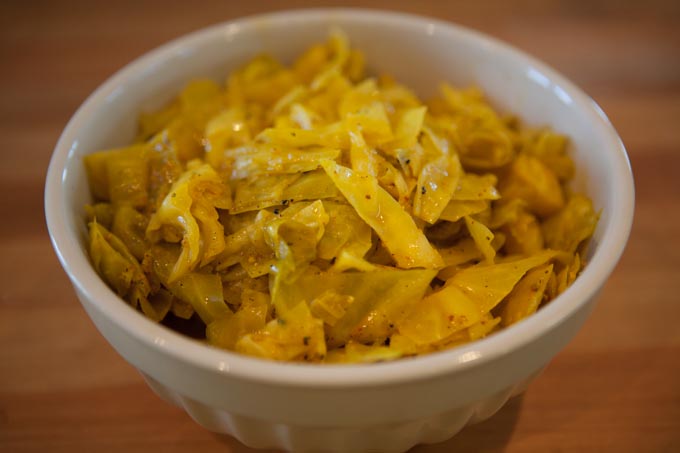 This is one of my absolute favorite sauerkrauts to make and most importantly eat.  It follows the fermentation process of a regular sauerkraut, but adds lots of Indian-style spices to make a robust flavor.  I named this recipe somewhat playfully as Shiva is the Hindu deity also known as "The Transformer," and these spices do indeed have the ability to transform an ordinary sauerkraut into something more special.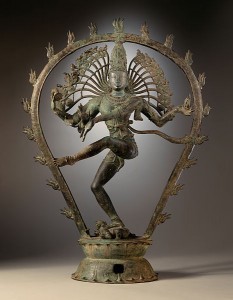 He's also known as the Lord of the Dance and this concoction has the ability to make your knees jiggle a little when you eat it!  Feel free to play with other spices or different amounts of the ones listed, and comment if you have any suggested modifications.  To me, this sauerkraut shows the value of experimenting in your kitchen.  When creating this, I just tried adding a bunch of spices to a new batch of sauerkraut to see what would happen.  It came out good enough, but I fine tuned the spice levels in the next go-round to better perfect what you find in this recipe.

Preparation Time: 25 minutes
Fermentation time: 10-14 days
Yield: 5 cups
Ingredients:
1 head green cabbage
1 1/2 Tbsp salt
1/2t fennel seeds
3/4t fenugreek
3/4t cardamom powder (or fresh seeds – not pods)
1/2t paprika
1/2t coriander powder
3/4t turmeric powder
1/2t mustard seeds
1/2t ginger powder (or diced fresh)
Directions:
Start by removing the outer leaves of the cabbage it they are looking a little sketchy. it they look fine, you should at least wash them off a little to remove potential contaminants.
Chop the cabbage. I prefer to cut it in fat ribbons about 3/8 – 1/2″ wide.  No need to grate it.
In a large bowl, toss the sliced cabbage with the salt and let sit for 30-60 minutes until it starts to sweat.
Mix in all the seeds and spices
Place everything, including any liquid at the bottom of the bowl, into a fermenting vessel.  I prefer a 1 gallon glass cookie jar, but a fermenting crock of course would be great.
Press down very hard using your fists or other implement. You'll notice that you can squeeze out a little liquid which will pool at the bottom. After you tire of compressing it, place something with some weight on top of the cabbage to effectively continue pressuring the cabbage while you are resting. I prefer a 1/2 gallon glass jar filled with water.  The salt will help to leach liquid from the cabbage.
Compress with your fist a few more times over the next hour or two and try to get the liquid level up higher. Your goal is to have the liquid cover the cabbage completely to provide an anaerobic environment for the fermentation to take place in.
If, after several hours or overnight, you can't get the liquid level high enough, add some water (without chlorine please) to cover by at least 1″.   Stir well to equalize the salinity level.
Place the weight on it, again I prefer a 1/2 gal glass jar.
Cover with a clean towel and let it sit for 10-14 days. Feel free to taste it every day or so to gauge the progress of the fermentation / flavor.  Over time, you'll find that the spices lose a little of their strong edge and settle in nicely.  Place it in the refrigerator, I prefer to place in mason jars first, when you feel it's ready.  It should take about 10 days or so but that will vary with room temperature and other factors.
It's a fabulous condiment with nice probiotic benefit and could go great on a veggie burger, in tortillas or on dosa.  Of course it would work great as a side dish with Indian food.
As a follow up note, I participate often on a Wild Fermentation discussion board and one day someone popped up with the question of where she could find the recipe for Shaktikraut, as she loved it when she made it but could no longer find it on the web.   I shared the link for my own recipe for Shivakraut and she had simply confused the two names.  Now if she searches for Shakti rather than Shiva kraut, she should find it here.  Thanks Google. Does anyone thank Bing?