Essential Fermentation Gift Guide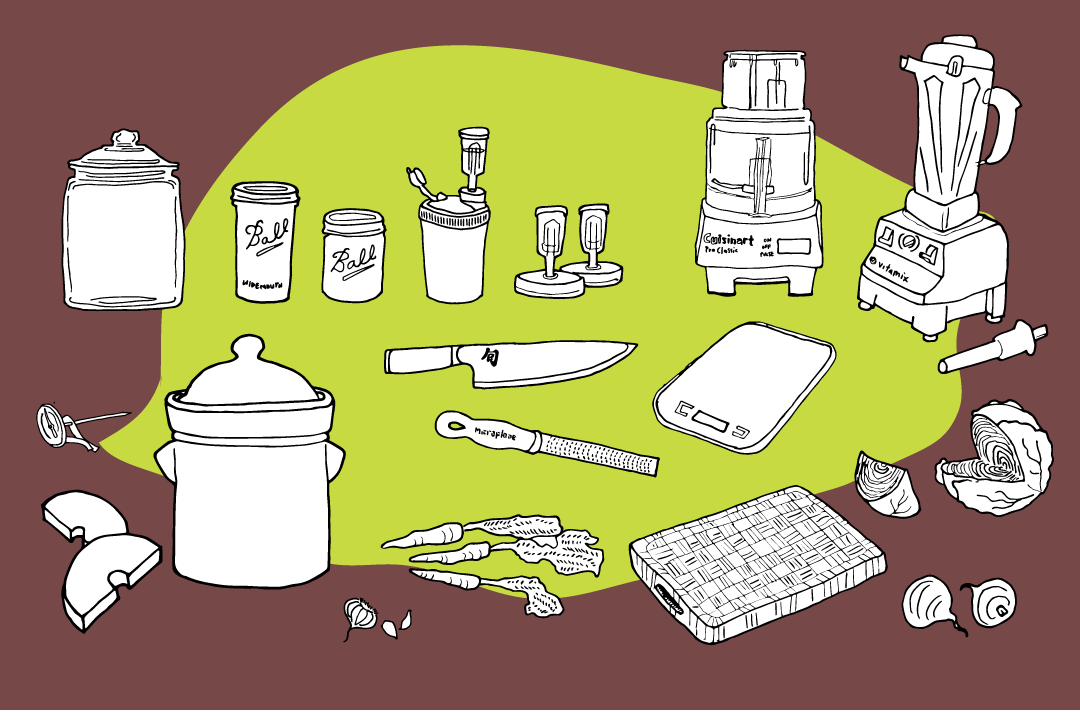 As the holidays arrive, you may be thinking of getting fermentation presents for a friend or loved one. Here are some links to my favorite products. Fermentation needn't be an equipment intensive undertaking, unless of course you are producing at a commercial scale.  All you generally need is a fermentation vessel, some salt and some sort of weight to help keep the contents of your fermentation submerged. That said, I am also a huge fan of having the right tools and equipment in the kitchen when working on ferments and making meals.
Here is a list of all the items that I use and recommend which I find helpful in the preparation and storage of fermented foods.
Items Used for Fermenting
Fermentation Crock – This is the one I use on a regular basis in my kitchen.  Works very well.  Food safe glaze, water lip around the top to create a seal which prevents molds and other microbes from entering. The 5 liter size is great for making decent-sized batches of tastiness that you can share while not dominating your counter space. A smaller 2 liter crock works great for smaller batches.  Having a good crock can help to minimize the occasional contamination problems that can pester fermenters.
Fermentation Kit – This is my favorite kit. Well priced, well packaged!
1 gallon  Jar – I used these for years for my fermentation projects and still do occasionally. You can use these to brew kombucha as well.  Use the 2 gallon version for larger kombucha batches.
Fermented drink crock with spigot.  I love having this crock with a spigot for brewing kombucha. Makes decanting easy and you can start doing continuous brews with this.
Air Locks – I love these, but there are many airlocks that work well.  Airlocks generally attach to mason jars to create a fermentation environment free of harmful microbes.  See Why Everyone Should Ferment with an Airlock  for more information and understanding
Glass Weights – These are definitely the best weights I've come across for mason jar ferments as they have a nice grip to help you remove easily. As glass, they clean very easily and remain free of contaminant growth between uses.
Equipment used for Preparation of Fermented Foods
Items Used to Store Fermented Foods
Ball Jars – I love making small batch ferments in a quart jar topped with an airlock. Not only do they work great as fermenting vessels, but they also serve as great storage. Shipping costs sometimes make these best to buy at the local hardware store.
Ball Jar Lids – nice caps with silicone ring seal. Work great for fermented foods, and won't corrode like the metal lids / rings that come with Ball Jars.
Helpful Books
Foods, Ingredients and Starters
Just a note that I do receive affiliate payments for some of these links. My income from such is low, but it does help in supporting the costs of developing and hosting this website. Please know that you will not pay any more for that item. Here is my Affiliate Disclosure if you'd like to read it.